Dinnerly vs Everyplate Competition: Learn What's Better
Ordering food online is a great alternative to cooking at home. You may opt for the necessary ingredients and follow a healthy diet easily. There are different services where you may get high-quality meal delivery. What are the benefits of using prepared foods and ordering them online at Dinnerly vs Everyplate?
When you use the best delivery service, you know that the quality is great, the food is healthy, fresh, and maybe organic. You don't need to spend too much time in the kitchen trying to create new recipes. Moreover, food delivery services provide recipes with calories already calculated for the clients. So, you can save time and enjoy your breakfast, lunch, or dinner.
Whether you prefer vegan options, organic food, or recipes for muscle gain, you can find a perfect service on the Internet. Today, we are going to find the difference between Everyplate and Dinnerly. These are well-known food companies providing meal delivery services in the US. Let's figure out more details about Dinnerly and Everyplate and choose the best.
Short Overview and Delivery Data
Who's going to be a winner in the Dinnerly vs Everyplate competition? These companies offer great services online. You can open the website, choose your meal and get it fast without leaving your home. This is such a beneficial way to request your food. No need to go shopping and create diverse recipes. Dinnerly and Everyplate can do everything for you.
Can you request a meal in your area? Everyplate covers quite a vast area. But you should go to the website to check if you can order the plan to your location. Dinnerly ships their orders from Texas, New Jersey, and California. You can get your order easily because the company offers their delivery services to lots of the US contiguous states.
What's special about the services? When you choose the service to request your meal, you should be ready to pay about $10 per serving. Or you don't? This is what clients like about the companies the most. When choosing Dinnerly or Everyplate, you can save some money and pay less. Doesn't it sound weird? It is great for your wallet. But what about the quality and menu diversity? Let's get to the pros and cons of the Everyplate and Dinnerly.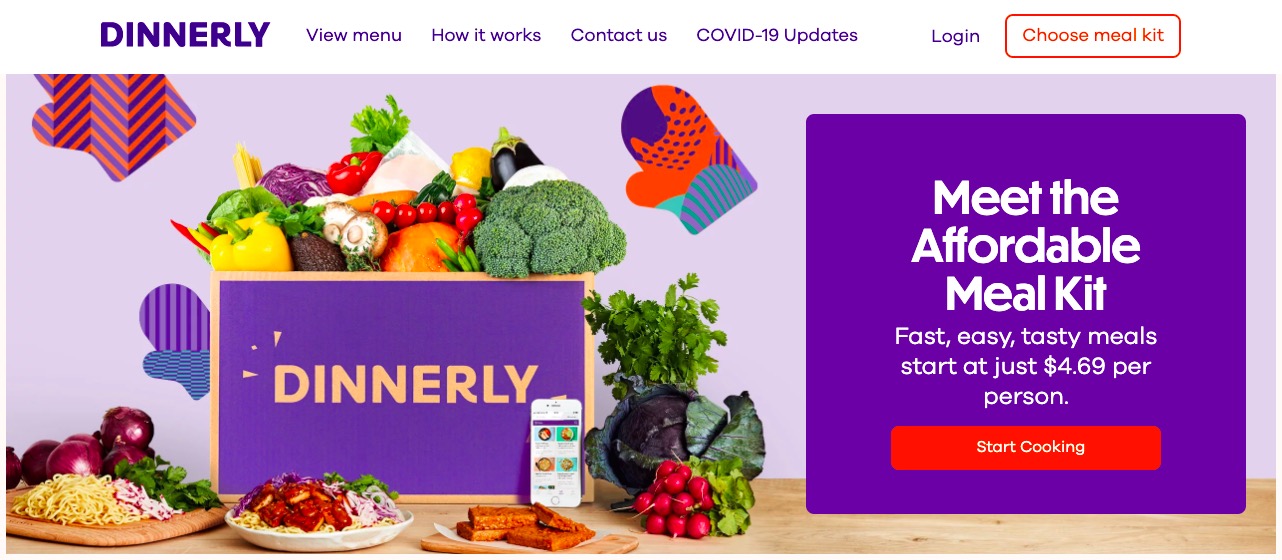 Pros and Cons
When choosing meal kits for your family, you should find the best quality company. You know about the specificity of the two companies. Now let's overview and compare Dinnerly vs Everyplate in more detail.
Dinnerly Pros
The first company is called Dinnerly. And it already sounds tasty. Now let's see what benefits its clients get from the meal delivery service:
You can request different menu plans at Dinnerly. There are vegan and vegetarian options. You can also choose dairy-free recipes or foods without gluten. The choice is great.
Another great thing about the company is its family-friendly approach. You can request meals for the whole family at Dinnerly.
Dinnerly is also quite flexible when it comes to cancellations. If you want to skip some meals or even weeks, you can do it. You have about 5 days before the actual date of your request to cancel it.
Let's now draw your attention to the cost of the services. In general, you will have to pay about $5 per portion, which sounds impressive.
These are some great things about Dinnerly. As you can see, Dinnerly offers quite a good list of meal options. And the service offers flexible terms of cooperation to the clients.
Everyplate Pros
Now we move to the Everyplate meal delivery service. Why do people choose this company? What do they like the service for?
First of all, let's look at the meal options. What's great about the service is that all the ingredients are well-listed. You may see the whole list of products used in the recipes.
The recipes are simple. You will spend less time in the kitchen trying to cook the dishes.
When you want to cancel your request, you may do it 5 days before the actual date at Everyplate. Moreover, you are free to skip the weeks and then continue your plan.
Everyplate is also a great meal delivery service that helps people save time in the kitchen. This could be a huge advantage for students or busy people working all the time.
Dinnerly Cons
Dinnerly is a great food prep service. But there are still some weak sides that divert the attention of the customers. What are these weak spots?
If you want to try some sophisticated meals, you should go for another service. Dinnerly may suggest interesting combinations of simple foods. But you won't find any extremely difficult meals on the website.
The shipping fee at Dinnerly may be huge compared to the price for the portion. If you request a serving and not a plan, you will need to pay about $9 to get your order.
The cons aren't huge, but they are still present when you deal with Dinnerly. So, before you make your order, consider these weak sides.
Everyplate Cons
Now we move to the Everyplate. What's wrong with the food delivery service?
Unfortunately, you can't choose some highly specific options at Everyplate. No 100% vegan, vegetarian or dairy-free sets. You will get the list of ingredients and be able to avoid some food choices. However, there are no ready-to-request meal plans at Everyplate if you follow a specific diet.
The shipping is also huge if you compare it to the cost of the food. Your shipping fee will be about $9.
This is your choice to decide who is better: Everyplate vs Dinnerly. Both companies have their pros and cons. You should check the details and decide which weak spots may be tolerated.
Pricing
You have already learned the fact that prices at Dinnerly and Everyplate are lower than on other websites. Now we should take a closer look at the price options.
Dinnerly Prices
If you order for a single person, you are supposed to pay about $5. The final cost per serving will be calculated based on the number of total meals. You may wonder why the price is so small compared to other meal kit food companies. The answer is quite simple. Dinnerly takes a simple approach. You will benefit from simple food with recipes online. The quality is great even with such a small price per serving.
Everyplate Prices
When you decide to order from Everyplate, you will also need to pay about $5 per serving. It may be more expensive than the previous option, but a couple of cents won't make a huge difference. What's more, the quality is truly great. So, which is better – Dinnerly vs Everyplate? This is your task to choose based on the prices we mentioned in the article.

Types of Menu
Let's get to the most delicious part of the review. What meal options do Dinnerly and Everyplate offer? Dinnerly menu options may vary quite often. You should open the website and choose the options from the weekly options. You may try various vegetarian options and even dairy-free options. But you may also get simple burgers and staff.
Everyplate offers up to 16 different menu options. This is an example of regular American cuisine. You won't benefit from a vegetarian meal plan or some other sophisticated food variations at Everyplate. But you can always enjoy simple dishes with your family.
Boxes
When we talk about packages at Dinnerly and Everyplate, we should consider first the price of the services. Since the price is quite user-friendly, you shouldn't expect high-quality organic and recyclable boxes for every meal. These companies focus mainly on the convenience of the packaging. You will find it easy to deal with the packaging. It makes your food travel safely between the regions of the country. But there's nothing too special about the material of the packaging at both Everyplate and Dinnerly.
Ordering Process
The ordering process is quite simple when we get both Dinnerly and Everyplate services. If you want to get your order, there are simple steps to follow:
First, you should open the website and create an account. It is not an obvious step. You can use the platform without being registered. However, if you want to become a regular customer and benefit from possible discounts, you should have your account created.
When you are on the Dinnerly or Everyplate website, there must be a list of menu plans. You should check what you like most and add the meals to your order.
When the meal is ready to be packed, you need to point to your location, cover the price of the order and wait until the meal is at your door.
There should be no extreme differences when it comes to the ordering procedure. Both Dinnerly and Everyplate have common ordering processes. So, every customer may benefit from easy and straightforward tasks.
Support
Now it is time to say a few words about the work of the support team at Dinnerly and Everyplate. Both services provide a clear and user-friendly interface on the websites. However, users still may have difficulties in placing their orders. If you have any issues related to the order, meal plan, or pricing, you should pose your question to the support team. These are responsible managers who answer the questions and help with placing an order.
Conclusion
Trying a new meal delivery service is always an interesting experience. You want the company to meet your basic needs and offer tasty food options. Dinnerly and Everyplate are two great meal prep services in the US. Don't know which one to choose?
If you want a cheaper version, you should go for Dinnerly. They will give you the food at a slightly lower price. And you will also find some specific dietary options on their website. All the recipes are simple, but they may fit into vegan, vegetarian, or dairy-free options.
When you order at Everyplate, you will have to pay a bit higher price per serving. And you won't be able to choose the exact plan for a specific diet at Everyplate. So, mind these aspects when choosing the service. These two companies offer great quality products, fresh ingredients, and simple recipes to follow at home.