Green Chef vs Purple Carrot: Overviewing and Comparing Meal Delivery Services
Normally, to prepare a nice dinner, you need around 2-3 hours. But does a busy person have this time every day? While we can prepare home-cooked dishes on weekends or festive get-togethers, a usual working day doesn't give us such a chance.
Luckily, food delivery companies help us out by delivering fresh and pre-portioned ingredients for healthy meals to our door. So, this review will compare Green Chef vs Purple Carrot in terms of menu, affordability, packaging, ordering, and client support service and decide which is better, Green Chef or Purple Carrot.
Short Overview and Delivery Area
Meal delivery services have drastically changed the way we eat, giving us opportunities to get healthy home-cooked meals without the fuss around food shopping and measurements. They make it unbelievably easy even for large families or those who need to stick to specific restrictions.
This overview compares two food delivery services Green Chef and Purple Carrot, that are represented in the USA and offer an incredibly wide range of meals.
Both companies deliver boxes to all 48 contiguous states of the U.S., except Alaska and Hawaii. Purple Carrot, however, doesn't guarantee delivery to every region in a state. Companies work based on a subscription and accompany each recipe with step-by-step instructions.
Pros of Green Chef
Green Chef is appreciated as the best delivery service for people sticking to a strict diet and those being short of time but craving healthy and organic food. Here are its main benefits.
In every box, you receive prepared foods which are already measured and portioned. This makes cooking easier than ever.
Ingredients are mostly organic and free from GMOs or growth hormones.
Responsible ingredient sourcing.
The service is known for its generous size of servings.
There are vegan dishes, keto, paleo, and others. The plan, including Keto and Paleo, obtained the certificate of gluten-free.
Receiving your boxes whenever you're comfortable (once a week or once a fortnight).
The customer support is very responsive.
Cons of Green Chef
Among the downsides of this prepared delivery, the most noticeable are:
Shipping fee is always included, even in large orders.
Clients can't cross the limits of plans and mix meals from different ones.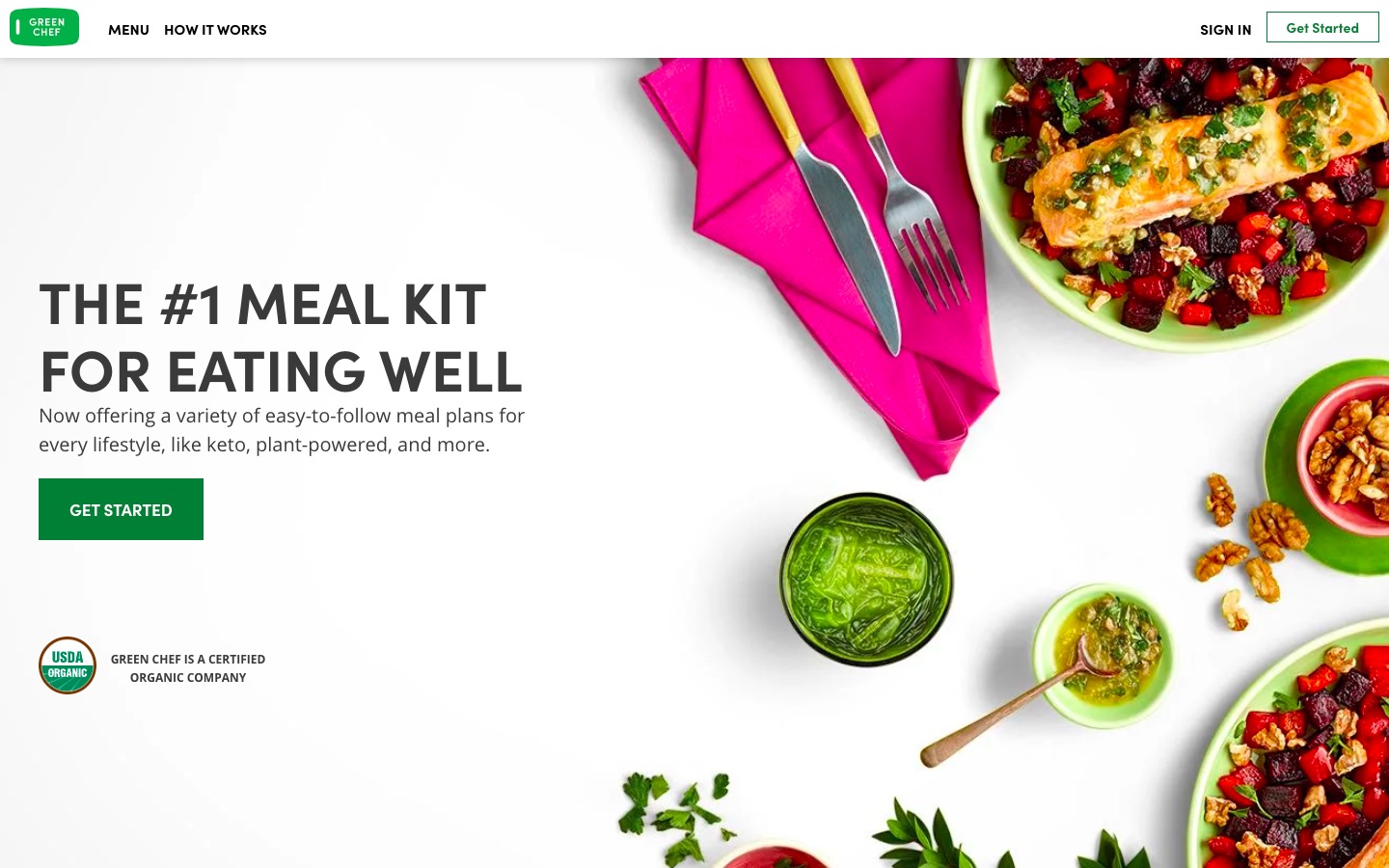 Pros of Purple Carrot
Purple Carrot makes a wonderful option with its well-thought-through meal plans. It allows you to get:
Plant-based recipes and dishes.
Nutrition facts and other important data on cooking.
Fancy extras to add to your meals.
Different recipe variants, covering lunches and breakfasts.
Tasty ingredients that remain fresh after traveling.
Cons of Purple Carrot
There are still some inconveniences in the service:
 Many recipes demand food processors and advanced cooking equipment.
Taking a little bit longer to cope with preparing food.
Green Chef Pricing
In the world of meal delivery services, this delivery company is something of the meals for the elite as it appears more expensive than others. So, in the competition of Green Chef vs Purple Carrot, it's clear that the meals here are more luxurious. The average price per serving makes $9.99-$12.99, plus the shipping price of $8.99 is assigned per order box.
The company provides three meal plans at different prices. They vary based on ingredients and the number of diners and servings per week. Here is what a single serving at each plan costs.
Balanced Living: $11.99.
Keto and Paleo: $12.99.
Plant-Powered $11.99.
Within these meal plans, you may pick 3 or 4 dinners per week for 2, 4, or 6 people that equal the number of servings.
Purple Carrot Pricing
The prices at Purple Carrot aren't much lower. Here it also depends on how many servings you desire and what add-ons you choose.
An average 2-portion Purple Carrot meal plan makes $11.99 per serving. This is the most expensive option.
As the number of portions in your order increases, the price goes down: the plan of 4 portions will cost you $9.99 for each serving. Breakfasts and lunches that appear lighter than main meals are priced at Purple Carrot $4.49 and $8.99, respectively.
The good side of the Purple Carrot food delivery service is that shipping is free for both 2-portion and 4-portion plans. This makes it a good incentive for those who are eager to try it for the first time ever.
Winner in the category: Purple Carrot.
Types of Menu: Green Chef vs Purple Carrot
Green Chef has been certified as organic and provides balanced choices for people with no specific dietary restrictions. There are both meat and fish dishes, and those focused more on vegetables. The good feature is that you can choose what source of protein you need today.
Each week, nine recipes change each other on the website. They can be added to your orders and customized according to your preferences or nutrition recommendations.
Plans at Green Chef can't be swapped during the week but only between them.
Top menu options at Green Chef include:
Salisbury-style beef.
Creamy mushroom penne.
Green pea and feta falafel.
Burrito bowls with black beans and vegetables.
These recipes can be found on the Balanced Living menu, where choices for meat, seafood, and plant dinners are rich enough. Among the dishes on the Plant Powered menu at Green Chef, you can enjoy meals for both vegetarians and vegans. All sorts of pasta, BBQ sandwiches, and bowls with veggies in Green Chef plans prove that meatless dishes aren't less delicious.
However, some meals on the plan contain nuts, dairy products, or gluten. That is why, if you are allergic to any of those, look for the labels 'Gluten-free' or 'Vegan.' As for those of you who are slimming or watching your carb intake, the Keto + Paleo menu has nice grain-free dishes.
Purple Carrot, in its turn, is a completely vegan meal delivery service offering dinners, breakfasts, lunches, and some snacks, too. All in all, it features three basic plans, including High Protein, Chef's Choice, and Quick and Easy.
The High Protein plan focuses on dishes with no less than 20 g of protein in each serving, which is perfect for anyone into the gym or muscle-building thing. Quick recipes require around 25 minutes to prepare and will do for spontaneous lunches and suppers. As for Chef's Choice, here you can treat yourself with exclusive restaurant-worthy dinners.
Among the most mouth-watering recipes at Purple Carrot, we would like to emphasize the following:
Mediterranean flatbreads.
Lemon poppy overnight oats.
Spicy coconut noodles with curry.
Desserts and snacks are found in the category 'Plantry' and mostly cover vegan dark chocolate and cookies boxes.
Winner in the category: Green Chef (for its greater variety of recipes).
Boxes and Packaging at Green Chef vs Purple Carrot
Green Chef is concerned about boxing their deliveries in reusable or recyclable packaging and, what is more, sourcing a large part of their ingredients locally. This means producing fewer carbon emissions. Green Chef is also not afraid to tell the world what kinds of plastic it includes in individual packaging for foods. The Green Chef official website enlists them all and, by the way, lets you see the closest places to recycle it.
Purple Carrot is a huge fan of recycling and aims to make every part of its kits disposable. And these are not empty words with no proof – Purple Carrot has even got instructions for its subscribers to compost the leftovers from food. The company is also devoted to using recyclable packages.
Both are even in the category.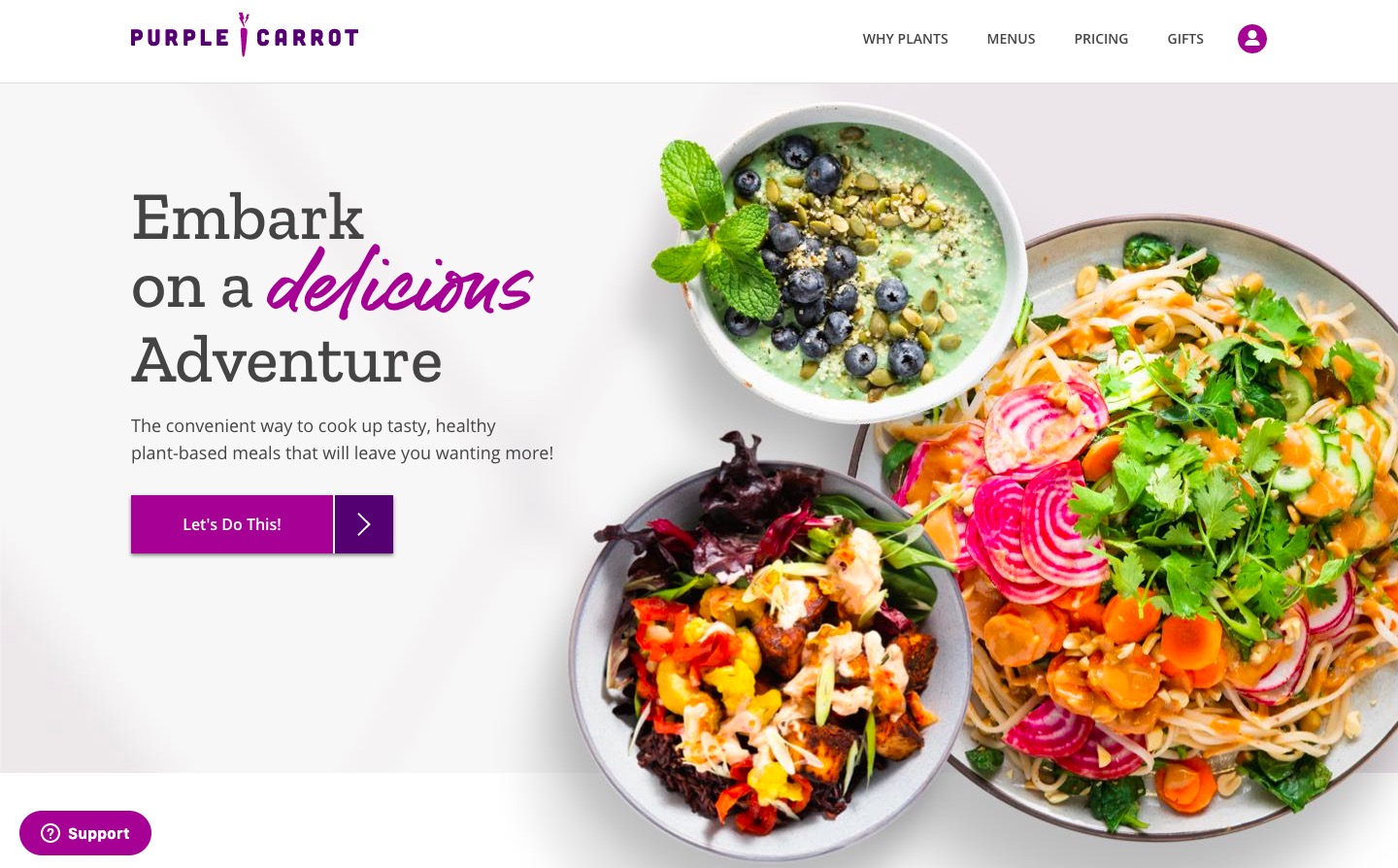 Ordering process and Ease of Website Use: Green Chef vs Purple Carrot
Looking at the aspect of website navigation and ordering, it is hard to tell which is better, Green Chef or Purple Carrot. The process of ordering at both Green Chef and Purple Carrot is easy, well-organized, and clear. Ordering from Purple Carrot and Green Chef starts with making a personal account on the website, selecting your preferences, meal plans, and dishes.
Both meal delivery services use reliable payment methods, which are easily updated on the website. Managing your order is easy with both Purple Carrot and Green Chef. You are allowed to freeze or skip upcoming orders. For instance, with Green Chef, you can change the future orders in advance (up to 2 or 3 weeks, yet, not less than 7 days).
What concerns plans, the choice you've made on either website is quite flexible. Though you can't leave one plan and immediately subscribe to another, once the week ends, you are free to do it. Besides, any week can be skipped without canceling your subscription to the chosen plan.
Another plus making the whole experience with these companies non-limiting is that you aren't obliged to stay. Your account can be canceled online anytime without much waiting and re-activated in the future.
Though it's not easy to spot the difference between Purple Carrot and Green Chef in website browsing and ordering, Green Chef turns out to have a bit more user-friendly interface.
Winner in the category: Green Chef.
Support at Home Chef vs Purple Carrot
The most used customer support options on the Purple Carrot website are online chat, phone calls, and email messaging. There is no wonder that the first method is more convenient for customers since it gives quicker answers than emails.
Just like Purple Carrot, Green Chef is available to contact through email, phone, or chat as well. Inquiries are, as a rule, processed within the first 24 hours.
Both are even in the category.
Conclusion
To recap, our Purple Carrot vs Green Chef overview has shown that each of them serves different purposes. Both of them are worthy prepared food delivery companies with a responsible attitude to ingredient sourcing and meal plan creation, but their focuses are slightly different.
Unlike Purple Carrot, Green Chef is an excellent choice for meat-eaters who want healthier dinners and breakfasts. Cooking enthusiasts will also find Green Chef valuable for the unique opportunity to cook outstanding chef-created dishes for the whole family within some 30 or 20 minutes.
Purple Carrot will satisfy picky vegans or those starting their veggie journey. The Purple Carrot menu will give them perfect meals to eat a balanced diet that doesn't lead to vitamin or mineral shortages while avoiding meat.
So, we have revealed the key pluses and minuses for you to decide which is better – Green Chef vs Purple Carrot?