Comparing Gobble vs Blue Apron Meal Kits
It is always a challenge to compare two food delivery services that both have tasty offers and pretty reasonable pricing. Which one to choose? Which one will be worth it all? Today, such a competition falls on two renowned providers of tasty and healthy dishes for delivery – Gobble and Blue Apron. Let's compare Gobble vs Blue Apron and learn who may fit your delicacy of taste and paying capacity the most.
Short Overview/Delivery Area
Gobble is a company that caters to fastening your cooking time. It is all about the convenience and healthiness of home-cooked dishes. All your dishes are thoroughly crafted by Thomas Ricci, an internee of Michael Mina, who is a famous person in the gastronomy field. Your received meal kits are created the way you can make them with 1 pan only, within 15 minutes maximum. The chefs alone strive to prepare everything for you, including pre-sliced greens and meat. Then, Gobble is a good fit for those who seek balanced meals with 700-900 calories. They cater to a few diet preferences like gluten-free, dairy-free, low-calorie as well as veggie options. Upon request, you can also opt for Lean and Clean meals, which are all under 600 calories.
Blue Apron, in turn, is a go-choice for people who seek some specialties regarding food experience. You can find not only healthy and tasty meals but also a good assortment of wines from renowned vineyards. Blue Apron is great regarding the customization of meals, as well as such dietary preferences like carb-conscious, veggie meals. Fortunately, they will also fit those eaters who crave something extra like Keto and Paleo. The service recommends skipping the week's options to clients if they do not find anything for their needs or preparing their own ingredients, which is a huge drawback.
The current delivery area of Gobble is in 7 states only. You may find them using their official website FAQs page.
Blue Apron delivery area covers the contiguous US. All the states covered can be learned with the website FAQs page.
As of now, Blue Apron conquers the hearts of those who love wine pairings, while Gobble boasts the involvement of a renowned chef trainee and his organic food offered. Let's say it is a draw game with Gobble and Blue Apron.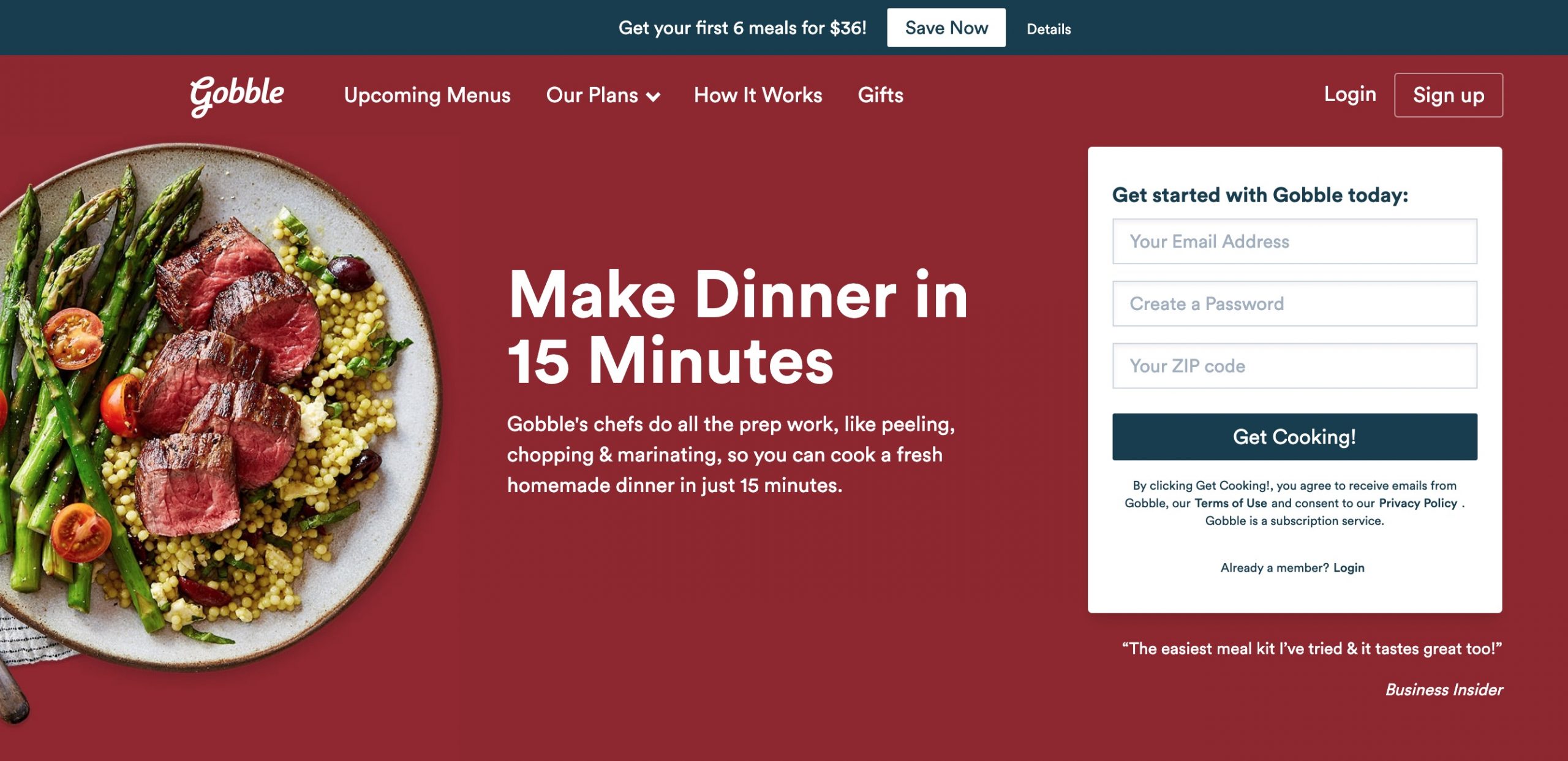 Pros/Cons
Let's have a look at the pros and cons of different services. They will help you make the right choice.
Gobble
| | |
| --- | --- |
| Pros | Cons |
| Healthy and diverse ingredients; | Not many dietary preferences are covered; |
| Only 15 minutes of cooking time is required; | A few delivery areas are covered. |
| Responsive customer support team if contacting through a live chat; | |
| | |
Blue Apron
| | |
| --- | --- |
| Pros | Cons |
| Sourced, organic, and healthy ingredients; | Not many dietary preferences are covered; |
| Fast prepared foods. Keto/Paleo dishes are possible to find and order; | |
| A great wine selection and pairing with your ordered meals; | |
| Very affordable for big orders. | |
Gobble vs Blue Apron coincide in many characteristics; however, Gobble again may draw the attention of eaters who do not like to be bound to chargeable shipping.
Apron Pricing
Let's now proceed with the pricing of Gobble and Blue Apron. Looking ahead, they are both pretty affordable; however, everything depends on the pick of your plans and dishes in particular. Off we go!
Gobble Prices
3 nights 2 people = $71.94 in total, $11.99 per serving;
4 nights 4 people = $191.84 in total, $11.99 per serving.
3 nights 2 people = $71.94 in total, $11.99 per serving;
4 nights 4 people = $191.84 in total, $11.99 per serving.
3 nights 2 people = $71.94 is total, $11.99 per serving;
4 nights 4 people = $191.84 in total, $11.99 per serving.
All the plans come with free shipping.
Blue Apron
2 meals 2 people weekly – $9.99 (per dish), $47.95 in total;
3 meals 2 people weekly – $9.99 (per dish), $59.94 in total;
4 meals 2 people weekly – $9.99 (per dish), $79.92 in total.
Shipping is free for all these plan orders.
Blue Apron Signature for 4
2 meals 4 people weekly – $8.99 (per serving), $71.92 in total;
3 meals 4 people weekly – $7.99 (per serving), $95.88 in total;
4 meals 4 people weekly – $7.49 (per serving), $119.84 in total.
Shipping with this plan is free.
Blue Apron Vegetarian for 2
2 meals 2-person per week – $9.99 (per serving), $47.95 in total;
3 meals 2-person per week – $9.99 (per serving), $59.94 in total.
Shipping is $7.99 for 2 meals 2-person per week order.
Blue Apron Wellness for 2
2 meals 2 people per week – $9.99 (per serving), $47.95 in total;
3 meals 2 people per week – $9.99 (per serving), $59.94 in total.
Shipping is $7.99 for 2 meals 2 people per week order.
Gobble definitely wins because they do not charge one for shipping. Beyond that, they seem more affordable if you are not picky.
Types of Menu
Speaking of their offered meal plans, Blue Apron definitely gains the lead in the variety because it caters to the needs of single-person and big families orders. Yet, Gobble is not as bad for some eaters as well.
Gobble Menu
Classic
Vegetarian Only
Lean and Clean
Gobble firstly offers a Classic type of menu where you will enjoy fresh Poultry, Beef, Pork, Lamb delicacies alongside Fish and Shellfish Ingredients. The service enlists the rotating menu where you may learn whether one or another dish is too spicy or low in spices. Then, they kindly specify the allergies, which you may come across with meals. The vegetarian-only menu will feature healthy green meals. Lean and Clean by Gobble is fully suitable for low in carbs and nutrient-dense options with a myriad of proteins, veggies, and only balanced fats. All the dishes are under 600 calories, which is perfect for people who want to lose some weight.
Blue Apron Menu
Signature
Signature for 4
Vegetarian
Wellness
All the Blue Apron dishes are carefully crafted by chefs, ensuring you will get and follow a balanced diet. There are meals that are fully fit for vegan people, Keto/Paleo eaters. Yet, based on users' experience, it is quite hard to understand whether there are any gluten-free options. Blue Apron Signature and Signature for 4 plan feature combinations of meat, Beyond Meat, and diabetes-friendly recipes. Vegetarian for 4 will power your health with meat-free but seasonable ingredients. Finally, a Blue Apron Wellness plan is good for carb-conscious eaters.
Blue Apron vs Gobble types of menu are different; however, Blue Apron has more dietary preferences met, including some options for Keto/Paleo eaters; hence, you can first start with this service.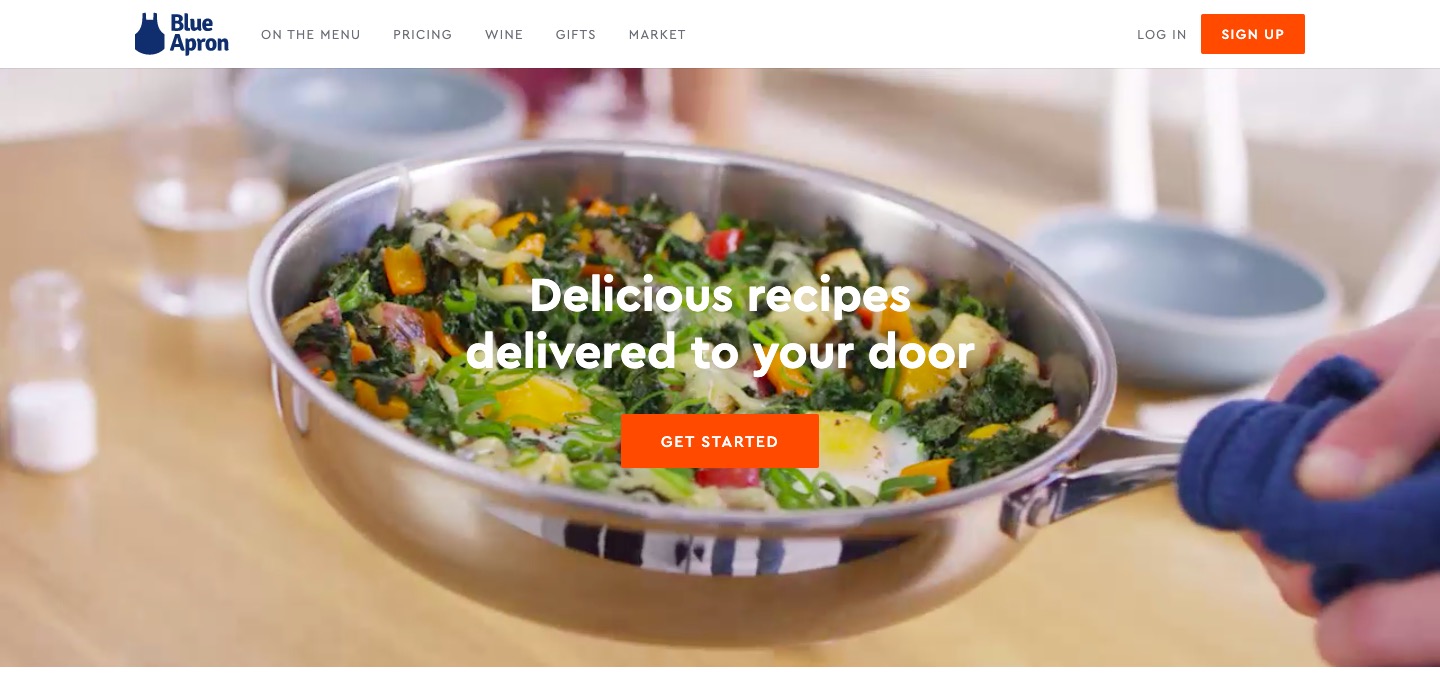 Boxes
Gobble deeply cares about the sustainability and the recycling of boxes. On their website, they share with their clients' tips on recycling the boxes. The main Gobble box is cardboard; then, they have gel ice packs that are fully non-toxic because they are made from only natural polymer. The box also has an insulated liner. As for the plastic bags, you may simply drop them at the nearest recycling office. If you need any other inquiries regarding recycling, you may address them to their customer support team. Upon receiving the Gobble box with a meal, you won't come across much plastic, which is great.
What about Blue Apron? Blue Apron also adds all information on recycling and packing online. Yet, it is worth saying that compared to Gobble, upon receiving your meals, you will see quite lots of plastic. It concerns bags, bottles as well as cups. Yes, they are all recyclable; however, it is better to think about some alternatives.
Gobble meal delivery is a leader because its orders are not linked to sending you much plastic, which is amazing. You can find all the information on how to recycle one or another box part.
Ordering process
Speaking of the difference between the Blue Apron and Gobble ordering process, they are hardly the same. Everything starts with your login/sign up. After that, you are redirected to the plans. With Gobble, you have a choice of ingredients you want to see in your meal, including Poultry, Beef, Fish, Shellfish, etc. You just click on what to skip. With Blue Apron, you simply choose a plan and indicate the number of servings. After that, you will come across some details about your address and the final cost of the order.
Yet, it is necessary to say that the Gobble ordering page is more convenient because you straightforwardly see the whole cost without any redirections. In contrast, Blue Apron divided this step in two. So, the recommendation falls for the Gobble service.
Support
Luckily, you have the possibility to contact either Gobble or Blue Apron. First off, Gobble has a live chat button where you may address your inquiry immediately. Then, they allow users to contact them through an online submission form, texting, and calling. Their responses are pretty instant; however, for the best results, it is recommended to proceed with a live chat/phone call. Their customer support team works Monday to Sunday with some restrictions in the time frame.
As for the Blue Apron customer support team, they also have a submission form to leave the inquiry straight on their Help Page. Otherwise, you can also reach them through a phone call, which works Monday to Sunday with time frame restrictions.
Gobble attracts more since it has a live chat communication method where you may address inquiries. Their representatives are very courteous and professional in answers; hence, you won't experience any judgment. Blue Apron had better add the same function. Yet, both services have convenient FAQ pages where all the questions and answers to them are found.
Conclusion
Which is better – Gobble vs Blue Apron? To be sincere, they two fit different categories of eaters. Gobble is extremely good for those who seek renowned chef's crafted meals, gluten/dairy-free dishes. Then, this service is extremely fit for people who do not want to pay for the shipping. As for their other dietary preferences, they are lacking. Blue Apron, in turn, first draws attention with their offerings regarding the wines. Therefore, it would be a nice party to choose for tasty delicacies paired with wines. Blue Apron offers some dietary preferences, including meals for Keto/Paleo eaters and so on. If taking all the factors together, Gobble is the best delivery service. Choose this company for affordability, tasty meals, as well as a responsive customer support team.