Blue Apron Review 2023 – Always New Pleasant Offers
According to my personal research and Blue Apron meal kits reviews, this food delivery company provides interesting dishes and recipes. Moreover, I tried Blue Apron, and I can safely say that Blue Apron is an excellent competitor among others. In today's Blue Apron reviews, you will learn more about its quality and delivery conditions. Blue Apron meal kit makes dinner extraordinary and tasty by offering dishes of different nationalities such as Calabrian chili, Za'atar, or Gochujang. Delicious dishes turn out to be rather soft but no less tasty. According to my reviews for Blue Apron, this renowned company exclusively uses quality food ingredients. The order is packed in tiny plastic bottles and plastic bags. However, the recipes from Blue Apron are quick and easy to cook, even if you are a beginner! Is Blue Apron good? This is arguably one of the most popular kits delivery services in the US. So I tried to check if this brand deserves its top-notch status or Blue Apron bad reviews prevail. I ordered three sets, each promising bold flavors like chipotle, Sichuan peppercorns, and gochujang. The results were pleasant, but the taste was slightly softened. Read on a review of Blue Apron to get full details.
Conclusion
Meals are prepared quickly with Blue Apron. Even if you are new to the kitchen, the relatively mild flavor can be improved. I think that the plastic packaging is too big, but I was so happy that the ingredients were delivered fresh. If you cook for one or two people and prefer light food without any dietary restrictions, then Blue Apron is the best choice for you!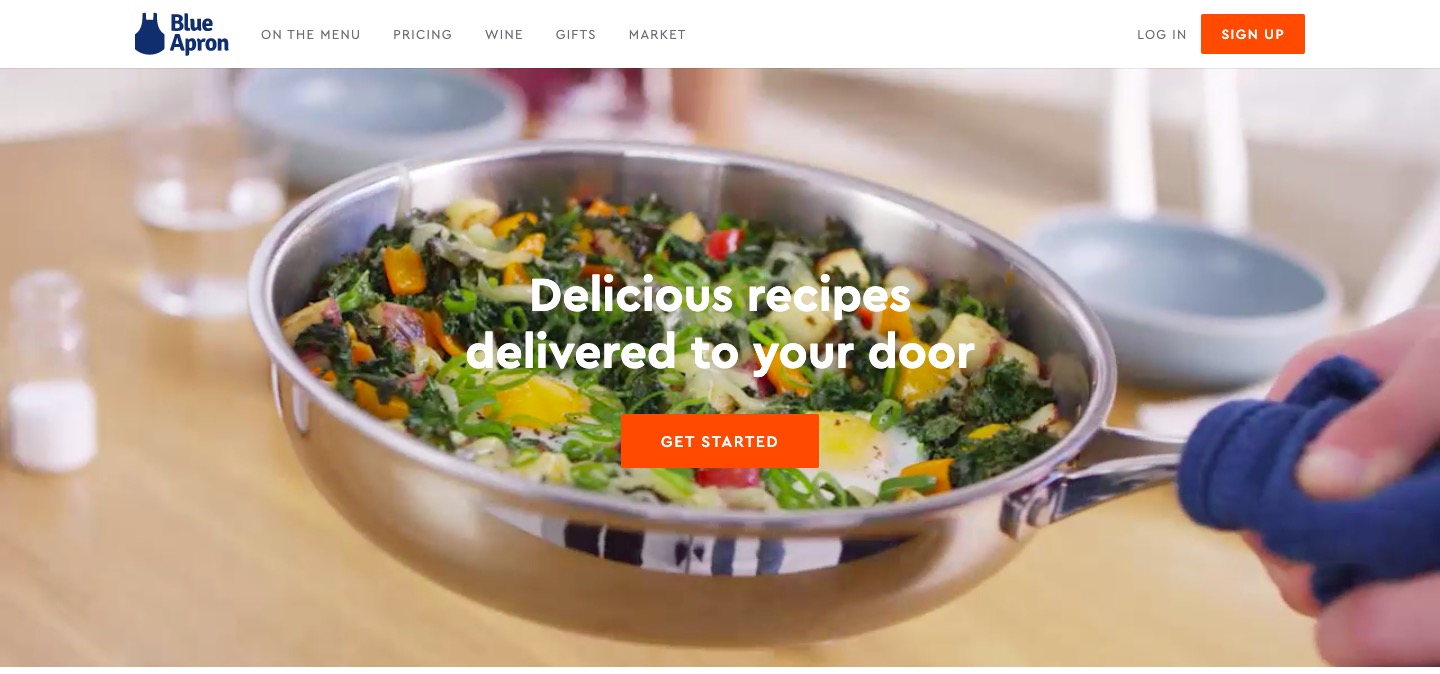 Blue Apron: Is It Worth It?
If you value time and money, you should definitely think about Blue Apron! The cooking times were either accurate. I was able to finish cooking even faster than indicated on the website. Almost all Blue Apron dishes I prepared were very quick and easy. And most importantly, delicious! I looked at cards with recipes that appeared to be easy to use, presenting step-by-step informative images. I note that it took no more than 25 minutes to prepare several recipes at once. The meat dish of pork took 35 minutes. This is because it took nearly 25 minutes to cook the red rice. All the recipes were simple enough that even a newcomer could easily prepare them. Moreover, all the recipes I tried required not so much chopping process. The preparation time was a maximum of 5-10 minutes. Plus, the dishes didn't include too many ingredients. Only one saucepan, one non-stick frying pan, and a small bowl were required. Changing plans, choosing recipes, and skipping weeks are very easy thanks to the well-designed Blue Apron app. Just a few clicks, touches, or swipes. It is not necessary to go into the settings. If our normal delivery date didn't match a week, then choose another day instead of skipping the week entirely. I was also able to go to my profile and select some protein preferences. Unless you are a lover of lamb or shellfish, the Blue Apron service will not include them by default.
Pros
Dishes are prepared quickly and mainly include wholesome food ingredients inspired by the world's chefs;
Freestyle plan is consistent with Weight Watchers score;
Blue Apron shipping cost is partially free;
A large ice gel pack, when packaged, is quite effective at saving food.
Cons
Food is too sweet;
Limited options available within four meals a day;
The ingredients are packed in plastic;
There are practically no special dietary options such as a keto diet, a vegan diet, or an allergy-free diet.
Paid delivery when ordering two meals a day.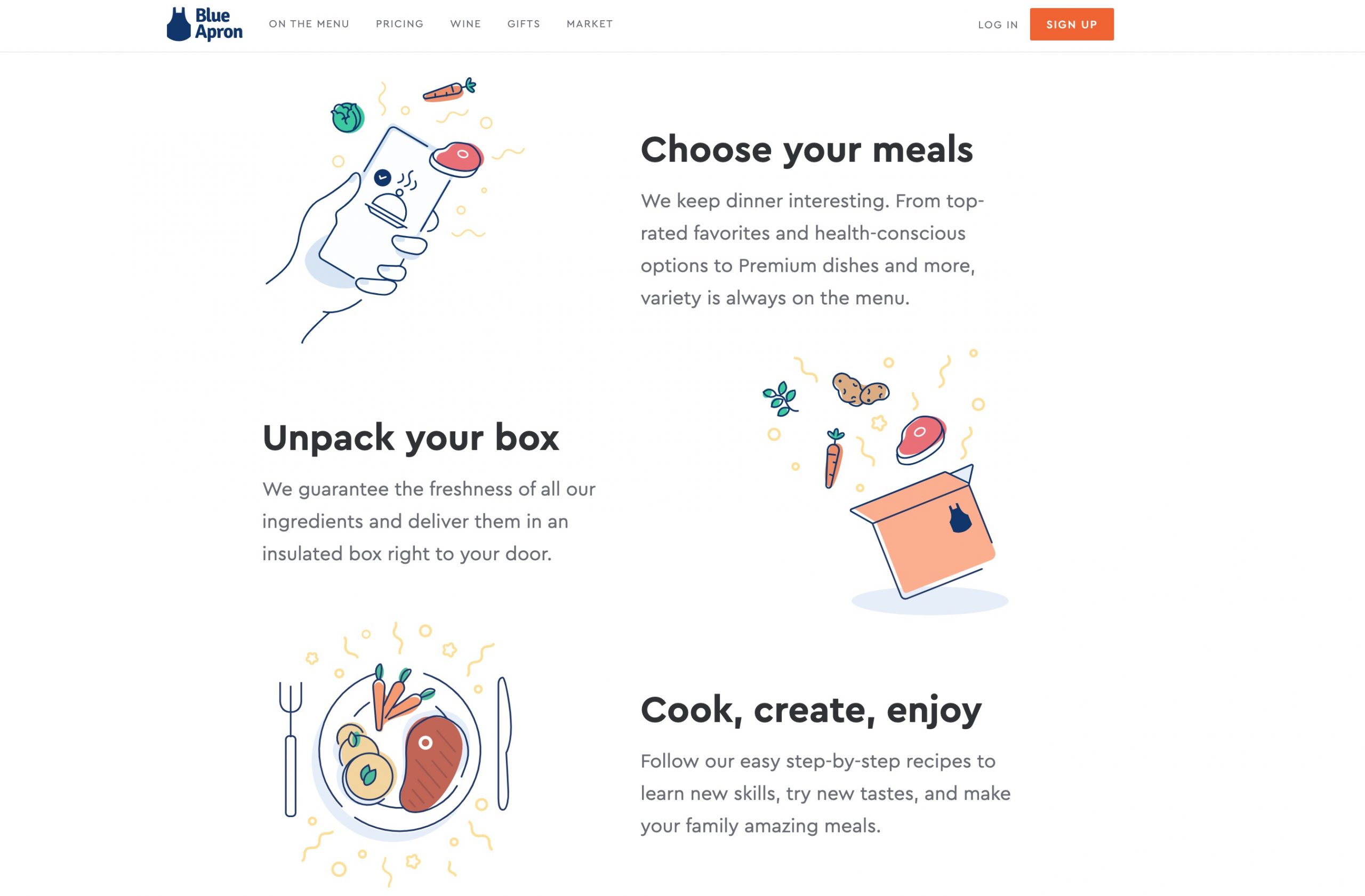 How Much Does Blue Apron Cost?
All the options suggest free shipping except for the Veggie Two Recipes per Week option and the Signature option. These two options incur an extra $7.99 shipping fee weekly. Two-serving recipes cost $9.99 per meal, and four servings cost $7.49 up to $8.99 per meal. It depends on how many recipes subscribers order every week.
Blue Apron Discount Code
Blue Apron promo code suggests about $10.00 Cash Back on your first order. In addition, it offers 10.0% off cash back on the gift cards purchase.
Blue Apron Meal Options
The food was varied and included unique ingredients such as dukkah, farro, and ponzu. I was surprised to learn that in the Signature plan, I was only able to choose from six to eight meals each week. Moreover, some other services offered me double-digit options. And in other plans of the company, there were even fewer options. The Signature plan of the Blue Apron food delivery service only includes occasional vegetarian options and not even the options suggested for two in the Signature plan. Therefore, if you want to constantly serve four people with such dishes, you will have to create two accounts. Still, all the recipes have helpful labels such as "Favorite Customer" and "Make-Ahead". This means it can be eaten cold or well warmed up. There is often one "carbohydrate conscious" option. But those following certain diets such as paleo or keto are out of luck. Another worrying thing: potential allergens have not been on recipes, and kits are processed in an allergen-free facility. I have selected and tried out the following recipes:
Caraway Sichuan beef with pepper, ramen noodles, and broccoli;
Stir-fried pork chops under chipotle mayonnaise;
Chicken salad cups with hoisin mayonnaise and spicy pickled carrots.
Quality of Products
The Blue Apron dishes I tried were very delicious and fresh. But unfortunately, none of them struck me. Possibly my expectations were a bit high given that the recipes had interesting, rich flavor ingredients like Sichuan pepper, gochujang, and chipotle. But they weren't really impressive! The expected ingredients must be fresh enough and in great shape. There is still a root ball attached to the buttered chicken salad cups. The chicken itself was pre-cut into nice chunks, unlike the other services I've already tried. Plus, Blue Apron provides the guarantee of freshness. Thus, customers can make a complaint if something in a box is substandard. In the next two recipes, sugar and honey were added. They made the taste of the dishes much sweeter than expected. Chipotle Mayo and fried pork chops were pretty boring, although they could have been improved with a little cotija cheese. Chicken salad cups with hoisin mayonnaise and spicy pickled carrots did not have the flavor I expected. Broccoli, cumin Sichuan beef with pepper, and of course ramen noodles were my favorites. The noodles were great, but the sauce didn't feel right.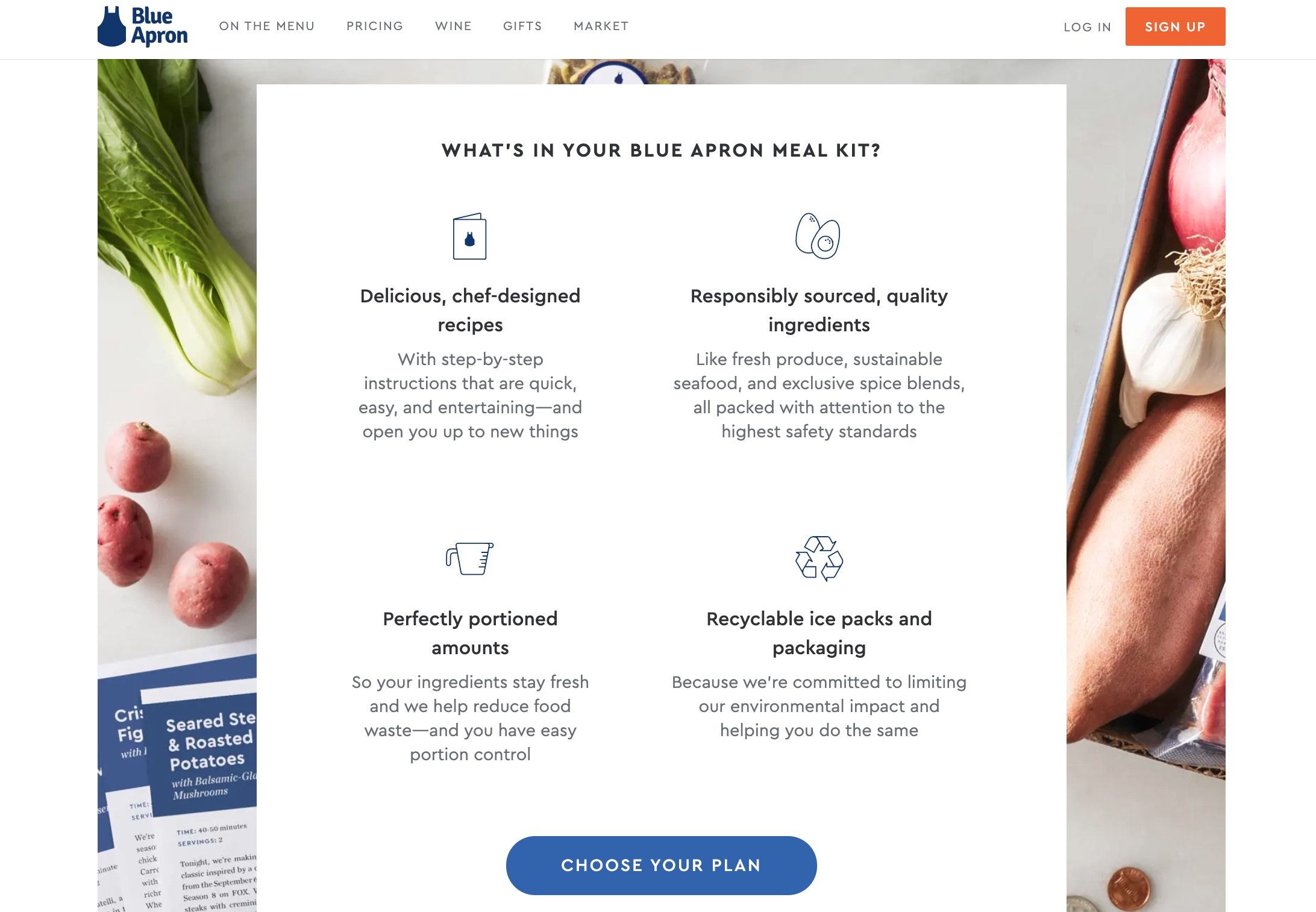 Blue Apron Ordering Process
Blue Apron suggests an one-week subscription to a set of high-demand dinners. Subscribers create an account on Blue Apron, choose plans and meals for a whole week. But if a subscriber doesn't want to choose dishes or has forgotten them, default dishes based on the particular preferences will be sent. It was easy to create an account. The plans like Signature, Signature for 4, Vegetarian plan, or Wellness are offered to any customer. Each member plan serves two members with the exception of a Four Plans Signature. Subscribers can choose a delivery day from Monday to Saturday, but there is no way to choose a time. My order arrived by van in the afternoon and stayed on the porch. Blue Apron recommends subscribers to immediately unpack the box with order and freeze perishable food. The Blue Apron app notifies about this before delivery. In fact, not everyone can get to their box on time. So I didn't open the boxes right away for the sake of the experiment. Fortunately, the ingredients were still cold.
Blue Apron Packaging
The Blue Apron large ice gel pack effectively keeps the ingredients cold in the box. It doesn't cover the box with plastic insulation. Blue Apron doesn't skimp on plastic packaging. Each ingredient was supplied in a plastic bag. There were many small parts in the recipes I tried. For example, a tablespoon and teaspoons of mayonnaise should be packed in tiny plastic bottles, tubs, and plastic bags. The ingredients are then placed in a larger plastic bag with the name of the respective dish. This allowed little things to be streamlined, adding more plastic to the mix. In addition, there were no tear-off grooves on them, so it was difficult to open them on the go. The rest of the ingredients, such as the vegetables, were scattered around the box. I ended up having to sort things out myself as a customer. Other delivery services I tried have distributed all the ingredients according to a specific recipe in paper bags. This technique makes it much easier to get what you need out of the refrigerator when it's time to prepare a dish. A cardboard box is recyclable. Still, you need to check local restrictions on recycling to know if any plastic bags, cans, or bottles in your area are recyclable.
Support
Alas, the recipe cards do not contain a list of allergens or information about nutrition. But each box includes a separate nutritional card for all of the recipes available this week. Blue Apron suggested recipes are available in the app. They can be saved to your account, but they cannot be printed. For those who are just getting started, there are many training videos of all cooking techniques.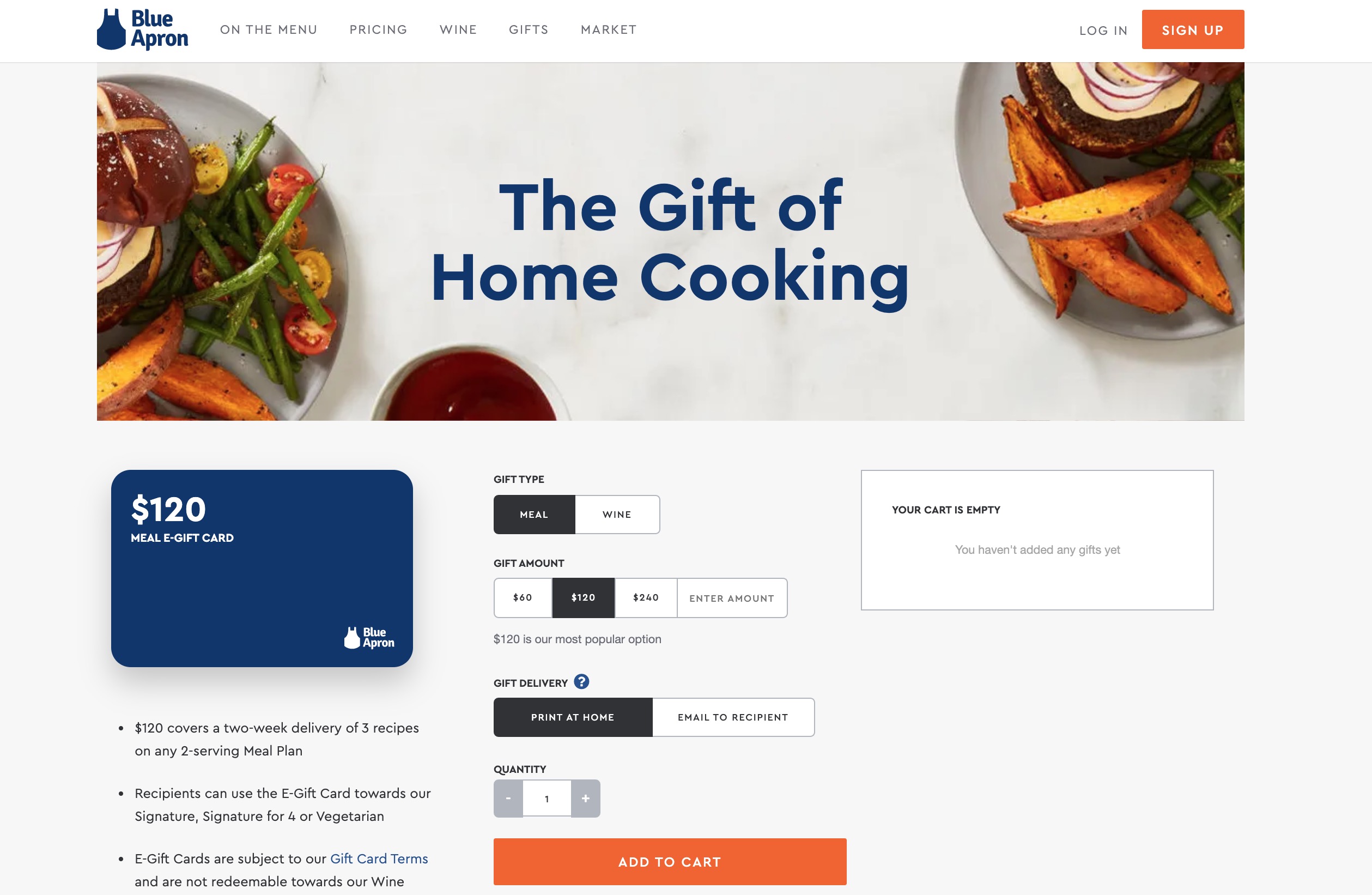 Similar Services
Plated
This is a great option for those who love variety. Plated has options for all types of diet. Choose from 20 recipes every week at $11.95.
Dinnerly
When ordering food from Dinnerly, all ingredients are not packaged on each meal. The ingredients are mixed together in a shipping box. On the other hand, it reduces the amount of packaging. There are no various dietary options other than vegetarian offers. It costs $6.50 per meal.
Home Chef
Blue Apron always offers free shipping, but Home Chef charges a $10 shipping fee on orders under $45. Still, this is one of the few food kits that can be found in grocery supermarkets.