The Best Cheap Meal Delivery Services
Going to the grocery store to get ingredients to cook and making all the preparations before getting to the main task of cooking can become a chore sometimes. You may just not be up for it and wish you had all the things you need to cook ready. Therefore you only need to move straight to the cooking process. Your wishes are no longer wishes but a stark reality with food kit delivery services.
Meal kit delivery platforms exist and serve as a convenient and easy means of getting nutritious, delicious, and ready-to-cook meals delivered to you right at home. With such services, you don't need to go to the market to buy food ingredients. All you need to do is make an order to have the ingredients delivered to you, and you cook straight away.
Many of these meal kits are available today and are growing ever so popular. If you are worried about them being expensive, you don't have to be. There are many affordable meal delivery services present today. They are ready to deliver quality, ready-to-cook foods to your doorstep at the lowest prices you can think of.
In this article, you will discover five of the best budget meal delivery services you can subscribe to today. At the end of this article, it will be easier for you to choose one that appeals the most to you and sign up for it. Once you do, you will say hello to affordable ready-to-cook meals without stepping out of your home—except to receive your package, of course!
Despite the convenience they provide, some food kit delivery services can be too costly for you to subscribe to them. However, many are affordable. Despite being cheap, these platforms still provide top-quality service to their customers.
This article reviews the best least expensive meal kits based on their menu types, delivery areas, prices, customer support, and reputation. Here are five of the best cheap meal subscription platforms: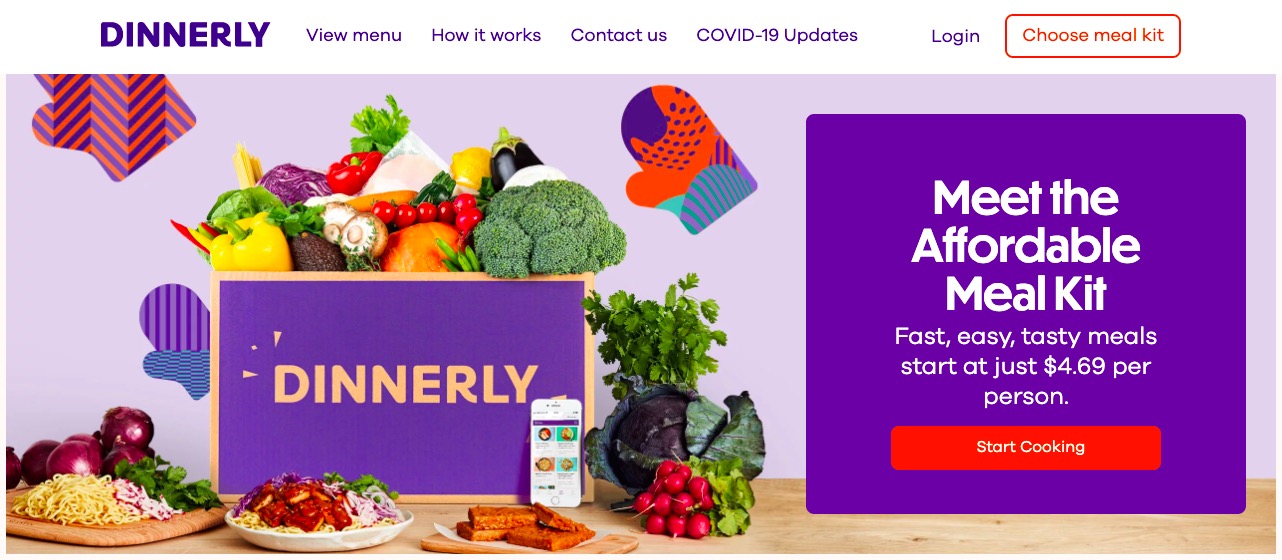 Dinnerly is a food kit delivery brand that prides itself as the cheapest in the market. It is an excellent choice for you if you are on a low budget. Despite its affordability, you still get to enjoy a wide variety of cuisines weekly.
Dinnerly can stay affordable by cutting costs via other means. For instance, the service uses only six ingredients for its dishes and does not include the recipe cards in its packaging. The recipe cards are only available online. In its packaging, Dinnerly does not separate ingredients by recipes.
Menu Types
Dinnerly does not offer mind-blowing recipes on its menu. Its meals are easy to cook and don't take time. It provides up to 16 recipes for its customers to choose from every week. The recipes have dietary options or labels like low-carb, low calories, vegetarian, gluten-free, and dairy-free. By clicking on any dish, you can see all its information and allergies.
Delivery Area
Dinnerly delivers to customers residing in most of the Contiguous United States.
Pricing
Dinnerly offers two subscription plans. These are the Two-person plan and the Family box plan. You can choose between three, four, five, or six meals per week for each plan. Prices start at $4.69 per portion. All orders attract a shipping fee of $8.99.
What is Dinnerly Good or Bad For?
Despite being an affordable meal delivery service, Dinnerly is not recommended for people with strict dietary restrictions. However, it is excellent for large families.
Customer Support
Customers of the brand can reach customer support via phone call, email, or by filling out an online form. You can also get answers to frequently asked questions on the website.
Martha and Marley Spoon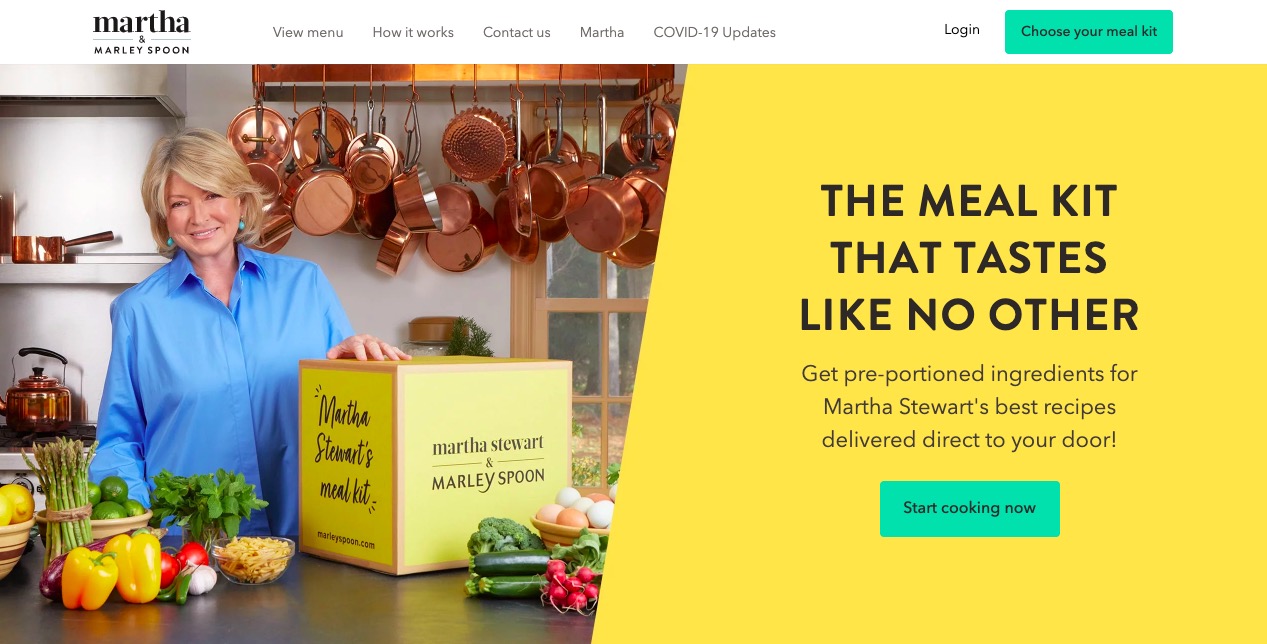 Martha and Marley Spoon offers its numerous customers balanced and easy to prepare cuisines. Every week, customers can choose from over 29 recipes from five categories. Once signed up to this platform, you are in for an enjoyable ride and assured of getting top-quality cheap meal kits. The meals you will get from Martha and Marley are chef-designed and prepared in six steps and take less than 30 minutes to cook.
Menu Types
Martha and Marley Spoon customers can choose from a rotating menu of more than 29 recipes. The recipes are spread across several filters, including Low Carb, Health and Diet, Family Friendly, Low Calorie, Vegetarian, Vegan, and Under 30 minutes. You will get every piece of information you need about each recipe on the recipe card. Some of the information you will find include allergen and nutritional information, the dish's level of difficulty, serving time, etc.
The service gives you the opportunity of customizing your menu. You can also choose between two to six meals per week.
Delivery Area
Martha and Marley Spoon offers cheap meal delivery services to most contiguous United States areas. When you are ordering your kits, your order will not process if your area is not one of their delivery areas.
Pricing
Martha and Marley Spoon offers two subscription packages, Two-Persons, and Four-Persons. Its prices range from $6.99 to $10.99 per serving. All orders attract a shipping fee of $8.99.
What is Martha and Marley Spoon Good or Bad For?
Martha and Marley Spoon is great for large families. However, those with severe food allergies or strict dietary specifications shouldn't subscribe to the service.
Customer Support
You can connect with customer support by filling out an online form or email.
HelloFresh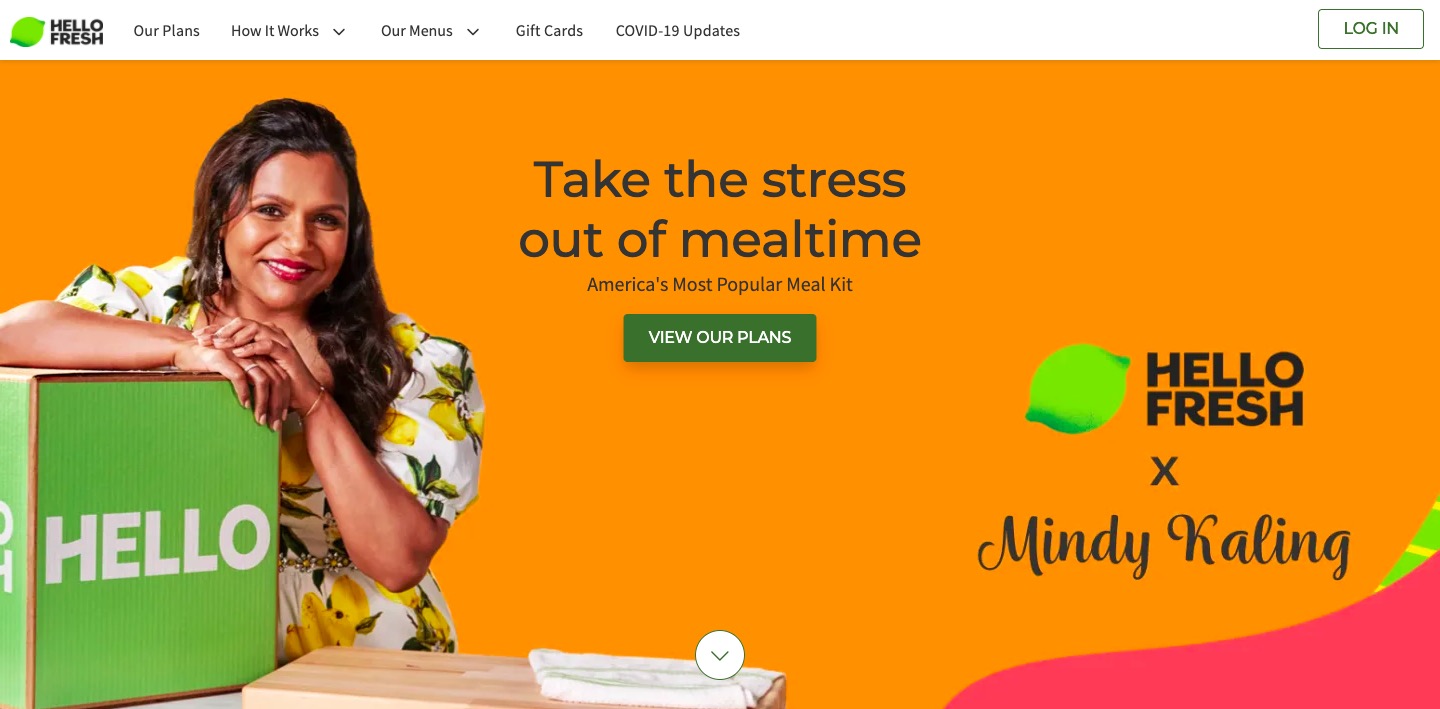 HelloFresh is one of the cheapest meal delivery services available. It offers its customers various affordable cuisines to choose from every week. It also has specific food categories on its menu list, catering to those with special dietary needs. Besides its varied food category, the service also provides its customers with a range of cooking difficulty options, making real foodies enjoy their cooking experience and cuisines.
Menu Types
The food kit delivery service's menu list is extensive. It includes various options that cut across several varieties such as calorie-smart, pescatarian, family-friendly, and other quick and easy options customers can choose from. The service has two subscription plans: a two-person plan and a four-person plan. Customers can order three, four, or five meals weekly. Your cheap meal delivery boxes come with recipe cards and preportioned ingredients when you order. The recipe cards contain step-by-step instructions that detail the cooking process.
Delivery Area
HelloFresh delivers to every American state except Alaska and Hawaii. It also operates in other worldwide regions, including the UK, Canada, Australia, and Germany.
Pricing
Its meals start at $7.49 per serving, which is quite affordable though not the cheapest food delivery service. Its shipping cost is $6.99, which is lower than many other delivery services.
Good For?
HelloFresh is great for people with dietary restrictions.
Customer Support
HelloFresh's customer support is available via a live chat window. There are no email or phone options. However, there is an FAQ section on the site with answers to multiple questions.
Blue Apron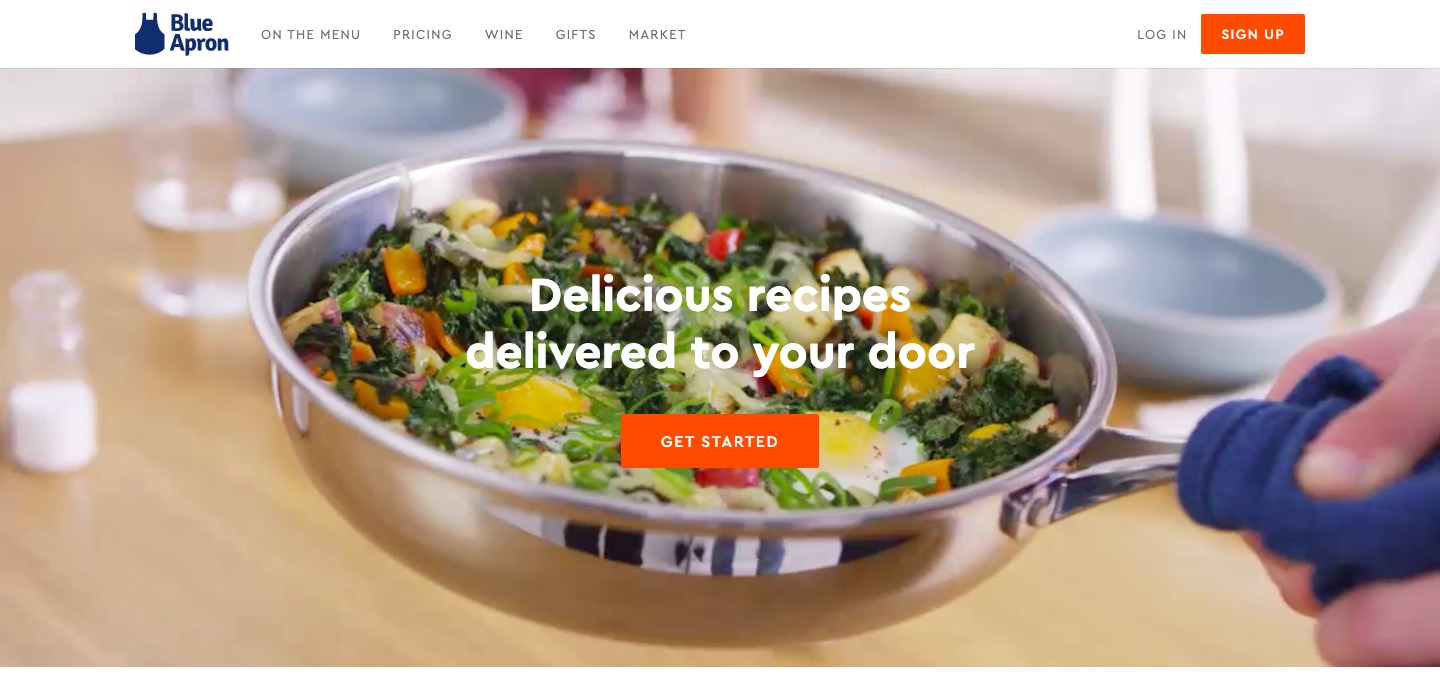 Over the years, Blue Apron has remained a stable brand in the meal kit industry. It is a long-running best-priced meal delivery service, and its experience in the industry is evident in the way it operates. The service has a well-designed and user-friendly website. The site is also filled with many resources that customers can use. There is a blog with informative articles, cooking tips, and even a FAQ section.
Menu Types
Customers can select from a variety of options when creating their menu. These options include carb-conscious, low-calorie, and diabetes-friendly recipes. The service also favors those with specific dietary restrictions. Its meals are labeled with their respective allergy information so customers can take note of them. Blue Apron is in partnership with Weight Watchers. Due to the partnership, diners can always know how many points their meals are.
Delivery Area
It delivers throughout the continental United States.
Pricing
Blue Apron's signature plan offers customers two to four recipes weekly. They can choose either two or four servings for each recipe. Its vegetarian plan provides two to three weekly recipes with two servings per recipe. Meals start at $7.49. The service has a unique feature, its wine delivery. It delivers wines at $10 per bottle straight to its customers' doorsteps. The service offers free shipping for most of its plans, making it untenable that it should be considered among the cheapest meal prep services.
Good For
Blue Apron is reputed for its free shipping and wine delivery.
Customer Support
You can access customer support via live chat and phone. Some articles and FAQs answer basic questions and provide cooking tips as well.
Home Chef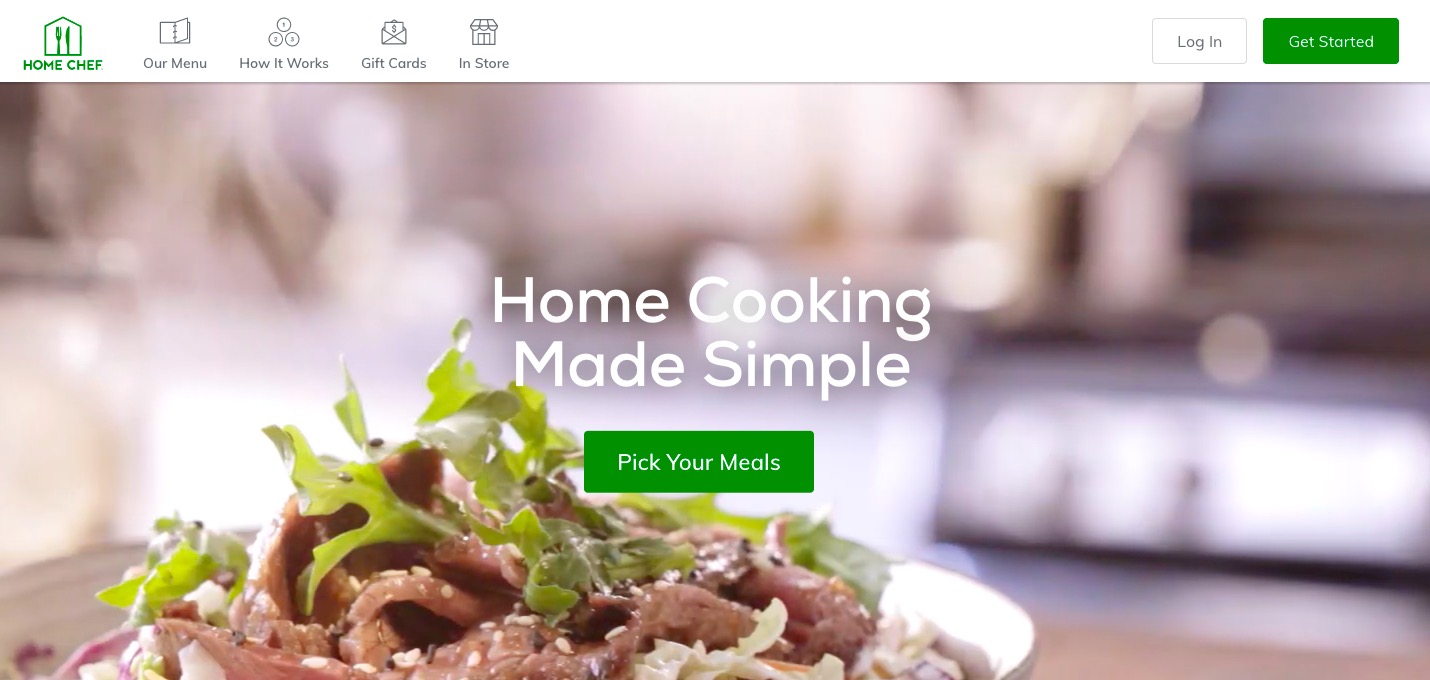 Home Chef is another least expensive meal delivery service that provides healthy and affordable meal options to its customers. Their cuisines are easy to cook and take 15 minutes or less to prepare. They also offer cooked meal kits that you only have to heat in the oven.
Menu Types
There is a wide variety of food choices on Home Chef's menu list. It includes ten weekly dinners, breakfast, fruit, and smoothie. It also offers dietary-specific meals like low carb, Vegetarian, low calorie, nut-free, or dairy-free. You can also choose between several protein sources while customizing your meal. With Home Chef, you can order meal boxes with two to six servings. You can also choose between two to six meals per week.
Delivery Area
Besides being one of the cheapest food delivery options, Home Chef also delivers to almost all parts of the US (about 98%). You have to input your zip code when ordering. You can also get Home Chef kits at select Kroger stores.
Price
Meals start at $6.99 while the shipping fee is $6.99, making it one of the most affordable meal delivery brands.
Good For
It is known for its wide variety of meal options.
Customer Support
The service's customer support is available 24/7 via phone call or email. There is also a richly educative FAQ section with answers to many possible questions you may have.
What Is the Cheapest Home Meal Delivery Service?
You may be wondering which of these reviewed services is the cheapest meal prep service. The answer to that question mainly depends on your choice. These services are some of the cheapest meal delivery kits you can find anywhere. However, it is not just their affordability that puts them on the list but their knack for always providing top-quality services to their numerous customers.
Hence, you can always decide which of them is the best cheap meal delivery service based on your preferences. Before going to choose the best most affordable meal delivery platform, you should follow the following steps:
Visit the service's website.
Check if the platform has meal variety and diversity in its weekly menu.
If you have dietary specifications, preferences, or allergies, you should also check to see that the service caters to those needs.
Check to see that the prices are affordable and that the shipping cost is not high.
Check for the service's availability and that it delivers to your location.
Check that the food kit service uses fresh and top-quality ingredients in its recipes.
Read customer reviews and other brand reviews to see if the service is notorious for poor services or has excellent ratings.
Conclusion
Food kit services usually range in their prices and service delivery. Hence, it can be quite a task to choose one that suits your needs all-round. However, multiple food kit services still provide excellent tasty and healthy meals to customers. You now know about these cheapest food delivery services. Always ensure you carry out the necessary checks you learned in this article before deciding on your preferred platform. Once you do that, you can go on and enjoy great tasty meals from the comfort of your home.