Is Dinnerly Worth It? Find Out in Our Review
Dinnerly is reputable for being a budget-friendly meal kit delivery company. It is not as big as the major food kit delivery brands but holds its own in the industry thanks to its affordable meals. Because of how cheap the service is, many people wonder if it is worth it. If you are one of those people or find yourself intrigued about Dinnerly's affordable meal options, you will find all the answers you need in this review.
This review of Dinnerly gives you a complete breakdown of the meal kit delivery service. After reading this, you will tell if it is a food kit delivery service you should try or one you should say goodbye to. To get started, here are a few things you should know about Dinnerly.
Having come to the end of this Dinnerly review, you would want to know what the verdict is. It is a meal kit service that offers affordable meal plans with quick and easy recipes. With the service, you can cook more meals at home without spending too much. However, if you have dietary restrictions, have allergies, or love eating organic, you have to steer clear of Dinnerly. If you wish for mind-blowing recipes or great-tasting meals, you should also try other expensive services.
For the price it charges, Dinnerly does okay on all fronts. Its dishes serve as healthy alternatives to take-out meals and suit those on a tight budget. However, it can improve its customer service and delivery window and add more flavor to its meals to make them taste better.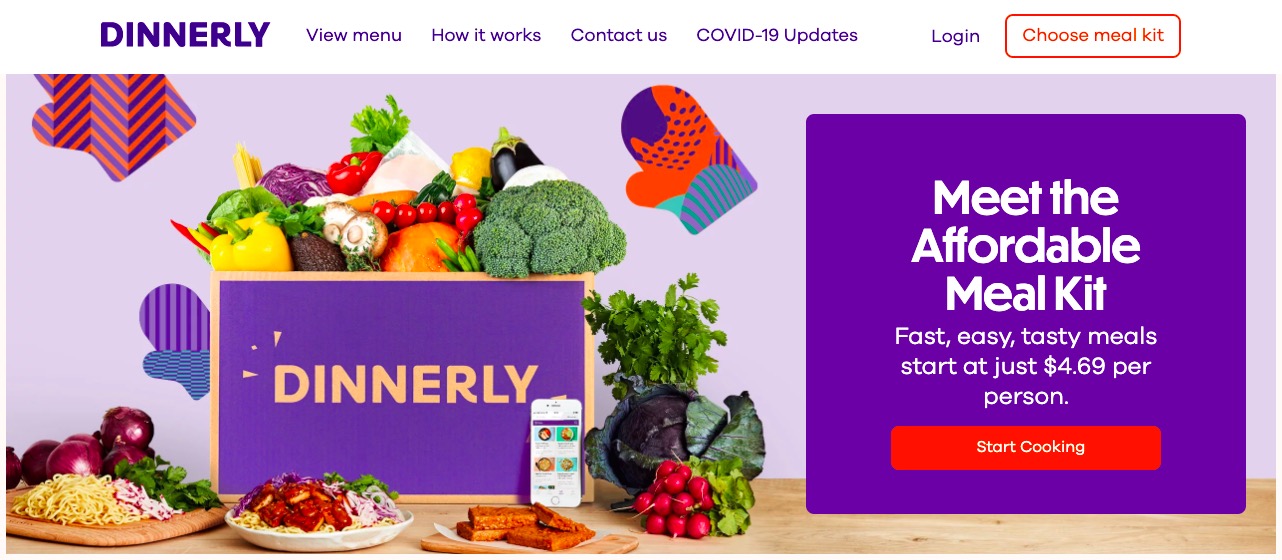 About Dinnerly
The budget-friendly meal kit service spun off Marley Spoon meal kit delivery. Dinnerly aims to provide its customers with affordable meal kits. To do this, it neither uses recipe cards nor does marketing ads or campaigns. It also uses limited ingredients in its meals, keeping costs to about half of the amount other food kit delivery companies charge.
Hence, if you are too busy to make food plans, shop for ingredients, and cook, and you don't have a large meal budget, Dinnerly is a service that may interest you. However, you may want to know if its recipes are as delicious since it charges so little for them. You have to continue reading to find out.
Pros and Cons
Pros
It is affordable.
It benefits large families because they can order as many as 24 servings weekly.
There is an extensive range of recipes you can choose from weekly.
You can easily follow the recipes and cooking instructions.
Many customer reviews on Dinnerly rate the service high.
Cons
The recipe cards are only available online.
The recipes are not well-structured.
The service supplies only a few ingredients.
Ingredients are not separated by recipe.
Limited Dinnerly delivery areas.
Each order attracts a shipping fee of $8.99 per week.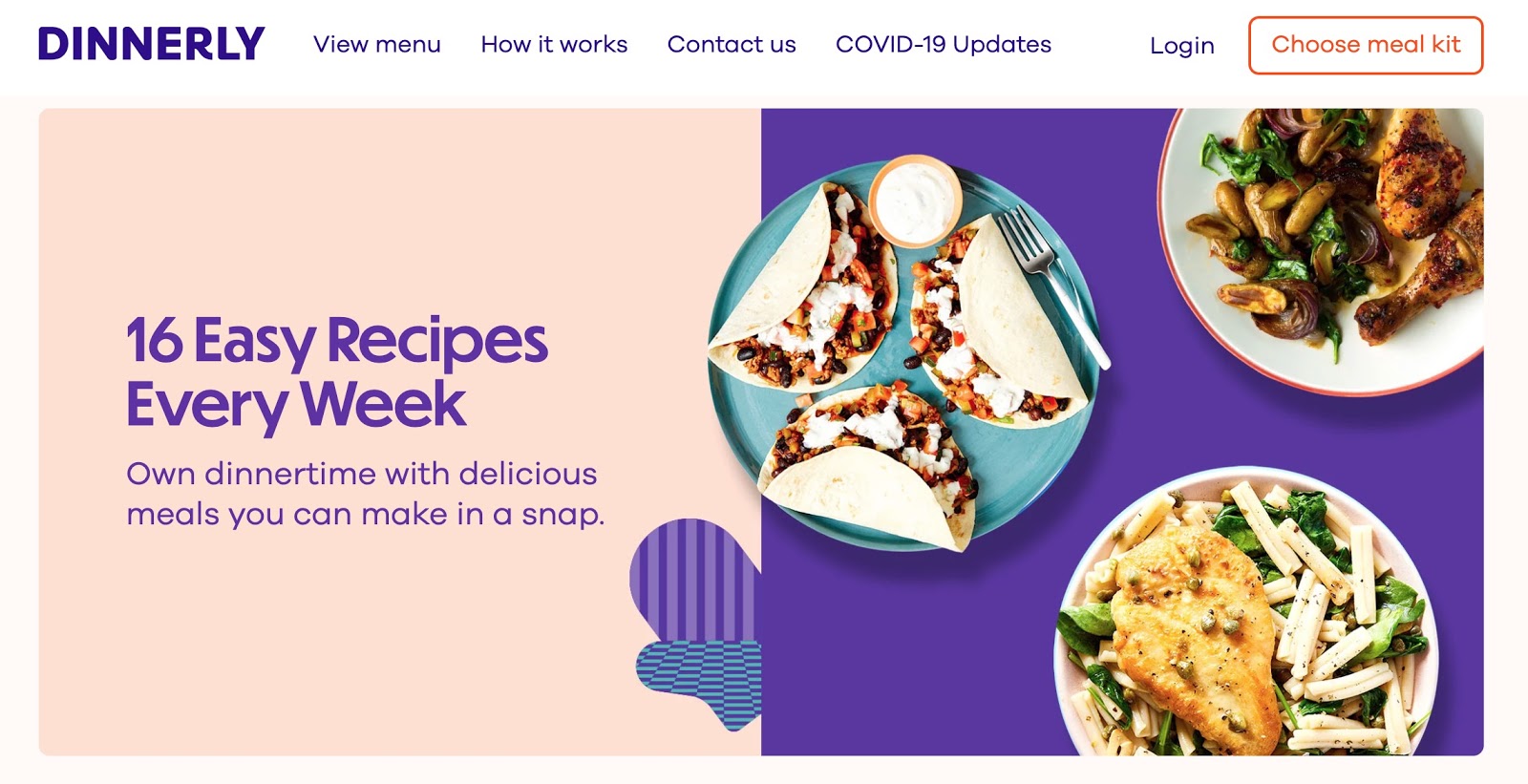 Dinnerly Cost
There are two plans: the Two-person plan and the Family Box plan. These plans' prices range from $4.99 to $5.29 per serving if you are ordering three meals per week. For the Two-person plan, if you want three meals per week, it will cost you $5.29 per serving. However, if you increase your number of meals per week to four, the price reduces to $4.99 per portion. For the Family Box plan, you pay $4.99 per portion for three meals per week, and the price decreases as you increase your number of meals per week. All orders attract a shipping fee of $8.99, which you pay for separately. Here is a table showing the Dinnerly price chart.
| | | | | | |
| --- | --- | --- | --- | --- | --- |
| | Two-Person | Family Box | Shipping Fee | Total Weekly Cost for Two-Person Plan (Including Dinnerly Shipping cost) | Total Weekly Cost for Family Box (Including Dinnerly Shipping Cost) |
| 3 Meals per week | $5.29 per portion | $4.99 per portion | $8.99 | $40.73 | $68.87 |
| 4 Meals per week | $4.99 per portion | $4.99 per portion | $8.99 | $48.91 | $88.83 |
| 5 Meals per week | $4.99 per portion | $4.89 per portion | $8.99 | $58.89 | $106.79 |
| 6 Meals per week | $4.89 per portion | $4.69 per portion | $8.99 | $67.67 | $121.55 |
The table shows that the cheapest deal you can get from the service is six meals per week for the family box, priced at $4.69 per portion. The cost of Dinnerly represents one of the cheapest in the meal kit delivery industry. It even prides itself as the cheapest meal kit delivery service in the United States, and it is not hard to see why. Pricing is also another reason why reviews of Dinnerly give the service high ratings.
Dinnerly Meal Options
Dinnerly continues to improve and now offers its customers up to 16 easy recipes to choose from every week. Each week, there is a new selection of different dinner choices numbering up to 20. The dinnerly weekly menu is previewed in a section you can call the "Dinnerly Meals this Week" section. Each recipe has available dietary options or labels like Dinnerly gluten-free, low-carb, low calorie, vegetarian, and dairy-free.
When you click on a dish's picture, you will get its full recipe and everything about it, including its allergens. With that, you can decide if the time required to cook the dish is quick enough for you or if it has the ingredients you desire.
Dinnerly meal service does not offer mind-blowing recipes or unusual ingredients. This is not a surprise given the low prices it offers. Most of the dishes on offer can be prepared within 30 minutes, while some others take up to 40 minutes.
Most of the dishes offered are similar to what you will find in an American restaurant. It has a simple menu list consisting of foods like potatoes, pasta, chicken and vegetables, burger and chips, enchiladas, tacos, etc. if you expect to see intercontinental cuisines, ancient grains, caper sauces, apricot glazes, or things of that sort, then Dinnerly is not for you. You should try a more expensive food kit service like Blue Apron.
The service notes that it can make last-minute ingredient swaps sometimes, making it possible for you to get something you can't eat. When this happens, you can always contact customer support.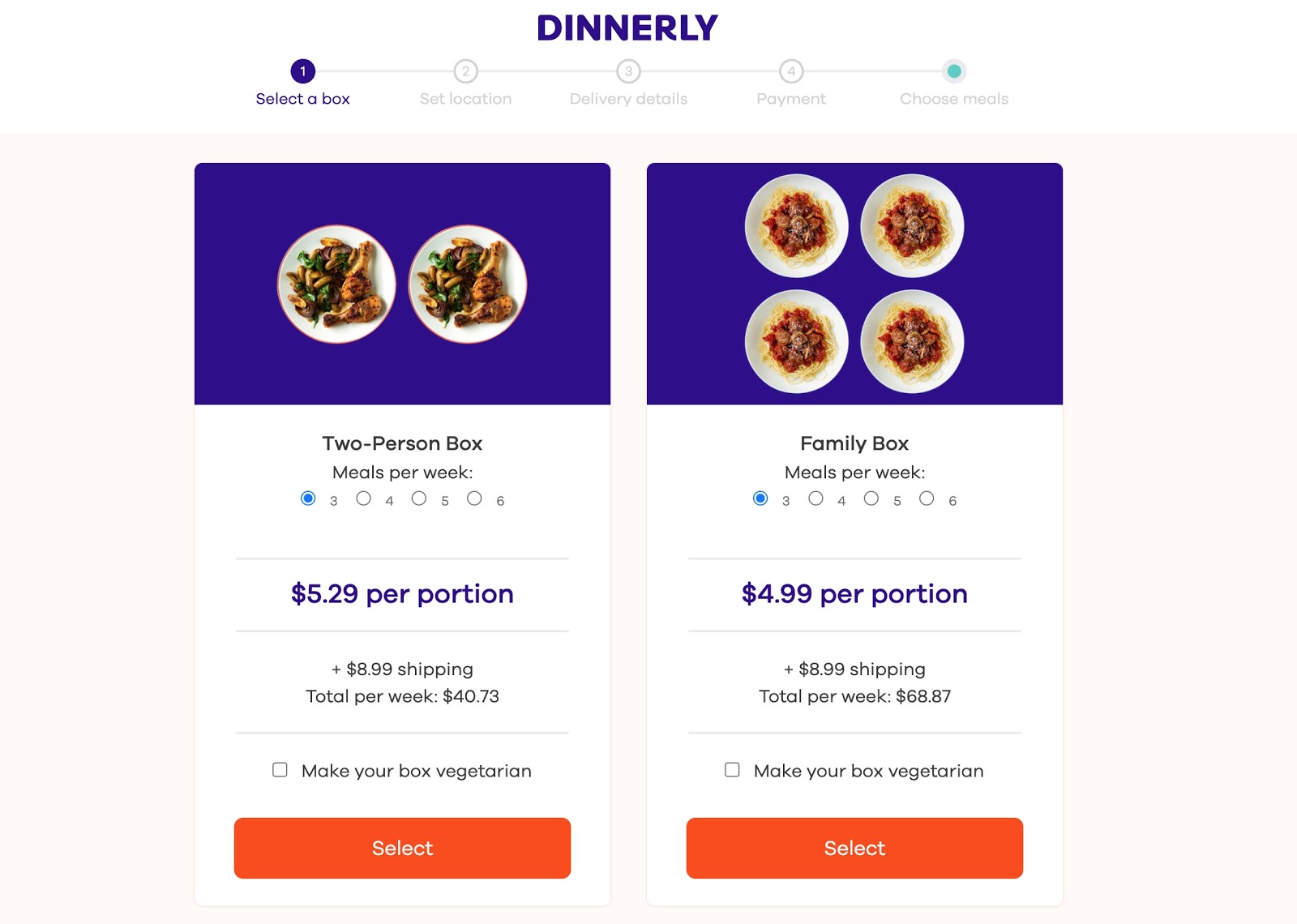 Quality of Products
Dinnerly sources its ingredients from trusted suppliers and lists every ingredient used in every food recipe. Most of its vegetables and fruits are conventional, and people who prefer eating organic may not find this ideal. The menus it offers are delicious and versatile. You are allowed to choose meals based on your preferences by customizing your weekly menu, adding or removing ingredients if you wish.
When you receive your food kit from Dinner, the ingredients will always be in good shape. Every order is shipped with insulated liners and ice packs. These help to ensure your food ingredients maintain their freshness while in transit.
Dinnerly Ordering Process
Some people ask how and when does Dinnerly charges you. It is during the ordering process. When you sign up with the service, it means you are ready to make an order. The process is easy. You click on "Choose meal kit" on the website's top right corner. It takes you to a page where you will have to choose your preferred food kit plan. This is between the Two-person box and the Family box plans. Select the number of meals you want per week. If you want your box to comprise a Dinnerly vegetarian menu, you should tick the box provided for it while choosing your desired food box.
After doing these, the next step is to set your location by entering your zip code and email address. If your zip code falls within the Dinnerly delivery area, you can proceed to the next section. However, if it doesn't, you can't continue. After this, the next step is to enter your Dinnerly delivery details lie your preferred day of delivery. The food service delivers between 8 am and 8 pm on Mondays, Thursdays, and Fridays. You will provide other details like your name, address, town or city, state, address type (commercial or residential), phone number, and who the package can be left with if you are not home at the time of delivery.
After this, you will proceed to fill in your payment details. You can use either credit cards or PayPal. After this, you can choose your menu before finalizing your order.
Dinnerly Packaging
Being a low-budget food kit service, the service tries to keep its packaging efficient and avoids wastefulness. It packs most of the ingredients in a box. Many of the ingredients are in plastic bags, except those that don't need wrapping. The items are kept cold with gel freezer packs and paper-based insulators. The Dinnerly meal kit does not include recipe cards in its packaging, nor does it organize each ingredient per dish. This makes it difficult for customers to know which meals the ingredients were for.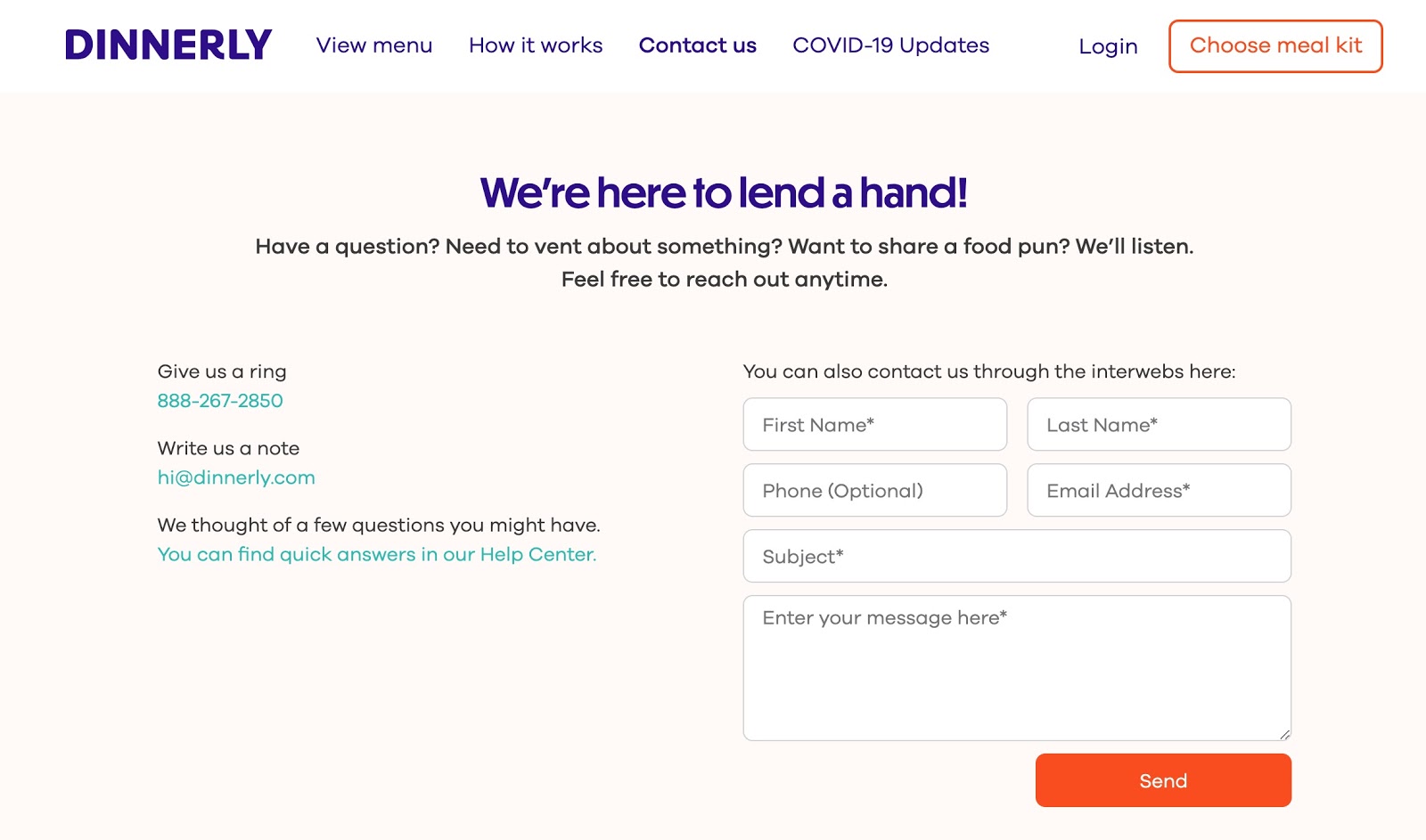 Dinnerly Customer Service
You will not find a live chat customer service feature on the website or app. However, you can reach out to customer support by phone call, email, or filling out a form online or on the app. There is a section marked "Frequently Asked Questions" where you can find answers to questions you may want to ask customer support. In most Dinnerly reviews, many of the food delivery service's customers said they found the section helpful as it helped them solve most of the issues they had.
Suppose you want to make changes to your recipes, delivery address, day of delivery, or skip your order. In that case, you can do so easily by clicking a corresponding link in the menu of the week either via the website or app. To cancel your subscription or pause it indefinitely, you only need to go to the settings page. However, you need to do it six days in advance.
Similar Services
If you don't find Dinnerly worthwhile, there are other options you can try like EveryPlate, Home Chef, Hello Fresh, Blue Apron, and Gobble.
Like Dinnerly, EveryPlate is a budget-friendly food kit service specializing in delivering easy and quick-to-cook familiar meals that are tasty and delicious. It offers fewer recipe options than Dinnerly and offers three to five meals per week. It also provides two plans, with customers having to choose between the two-person or four-person subscriptions. Its prices start at $4.99 while it charges $9 for its shipping.
Home Chef is another low-budget food kit service that allows its customers to choose the number of people they want to feed and the number of servings they will need rather than tieing them down to a specific plan. It offers you a range of recipe options, allowing you to customize every dish so that you can get what you seek.
Hello Fresh's prices start at $7.49 per serving, making it a more expensive option than Dinnerly. The higher prices may be its wider-ranged dish options, which include vegetarian, pescatarian, calorie-smart, and other options that are friendly for the family.
Blue Apron also starts at $7.49 and delivers pre-portioned ingredients and chef-designed recipes to its customers' doorsteps. You can select from its signature meals or vegetarian plans. It is a meal service that suits those looking to lose weight.
Gobble is a service that fits those who want quick and easy cooking. Its meal kits come with pre-chopped and sliced ingredients, reducing the time spent cooking to only about 15 minutes.