Home Bistro Meal Delivery Service Review
Sometimes you may find it difficult to come up with something to eat for dinner. You may be too tired to cook, or you just don't want to. In situations like that, a food delivery service specializing in the delivery of pre-prepared foods can come to the rescue. This article reviews one of these food delivery services: Home Bistro.
This Home Bistro review tells you all you need to know about the service. You will find all the answers you need about pricing plans, menu options, product quality, delivery, and so much more. At the end of the review, you will know whether Home Bistro represents a food delivery service you can trust for your prepared foods or not.
If you are a busy person and enjoy having restaurant-style gourmet cuisines quickly, then Home Bistro is perfect for you. You can choose from a wide variety of foods that cater to many people's dietary needs. The meals are easy to prepare and only require microwave heating for about ten minutes. You can also boil the food in the bag.
Despite its costly nature, Home Bistro's menu is worth every penny and is highly recommended. Home Bistro meal delivery reviews show that the brand is trustworthy and delivers quality meals. Its cuisines taste great, and the ingredients used for cooking the dishes are fresh, locally sourced, and of the highest quality. Hence, Home Bistro is one of the best-prepared food delivery services you can try today if you value good, healthy food.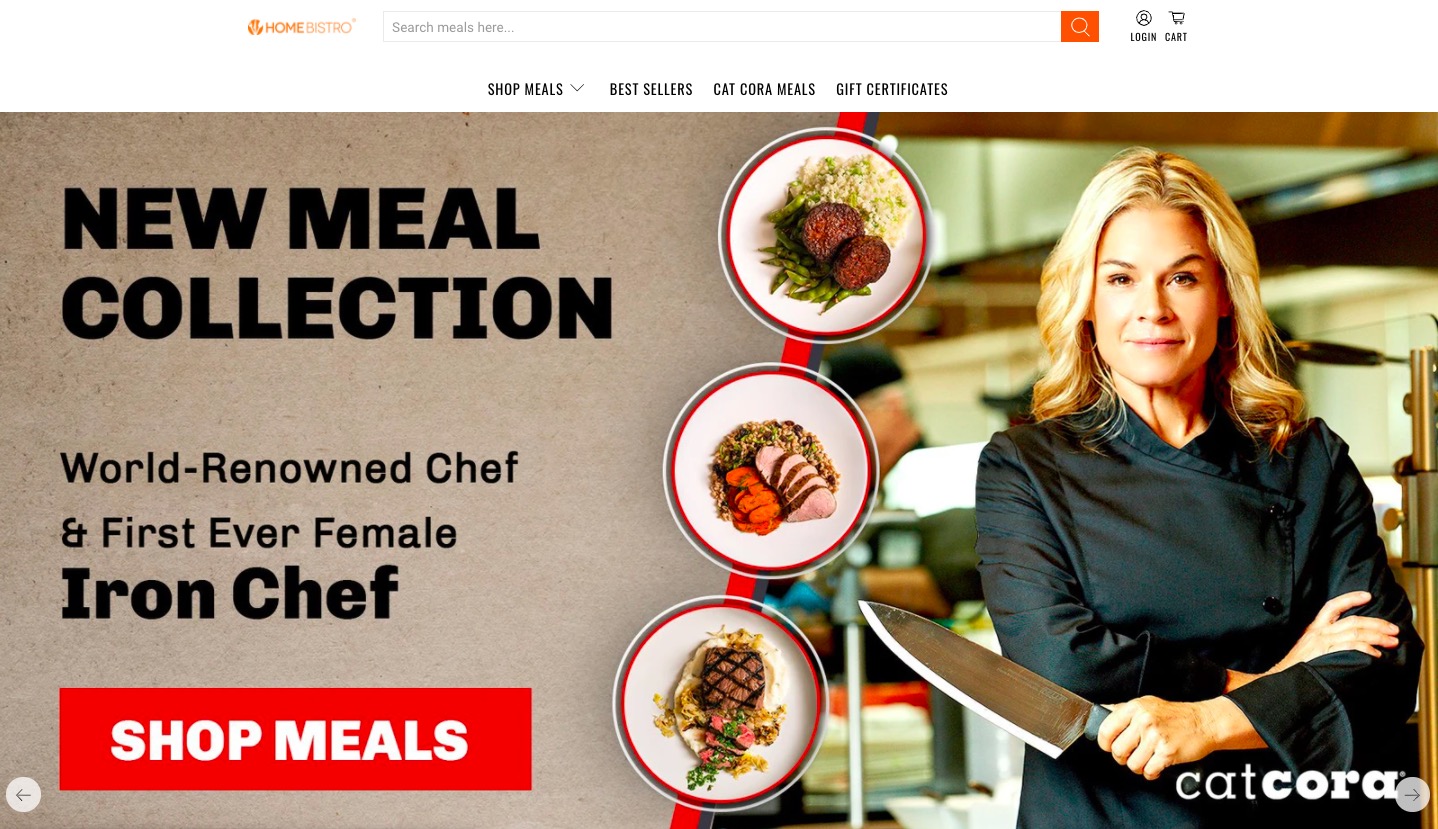 About Home Bistro?
It is a food delivery service domiciled in New York. Home Bistro delivers freshly prepared, home-delivered gourmet cuisines of restaurant quality to its customers. It offers its customers over 40 prepared gourmet meals. These meals include pescatarian and vegetarian options for them to choose from. Whatever your preferences, there is a high chance you will find something that appeals to you with Home Bistro gourmet meals.
The service is passionate about food and always creates high standards with its operating model. Chefs in Home Bistro are committed to preparing healthy foods quickly. They always use fresh ingredients and avoid using preservatives in preparing their dishes. It is no wonder why it has high customer ratings in many HomeBistro reviews.
Home Bistro Pricing
Meal prices on the website range between $12.99-$28.99. The cheapest menu is the Morrocan Ratatouille, while the costliest menu is the Spanish Cod with Mediterranean Tapenade.
Bistro's menu combinations are costly because they comprise about six to 20 entrees. Its cheapest meal combination is the Six Meal Mini-Max Pack, priced at $101.99, while the costliest meal combo is the Table for Two Dinner Collection, priced at $322.
Customers with dietary preferences can find dishes costing between $104-$184.99, with the cheapest of these being the Six Meals- Body Shred package, while the 10 Meals- Mediterranean is the costliest.
Bistro's SuperBowls' prices range from $85.99 to $149.99, while its Chef's Choice Plan costs between $104.99 to $219.99.
Home Bistro Meals Options
Home Bistro's menu selection is divided into five categories, making it easier for its customers to make their orders. These categories include Individual meals, Dietary Preferences, Meal Combos, Chef's Choice, and SUPERBowls. Here are brief explanations about each category:
Individual Meals
You can choose from a wide range of Bistro delivery meals, from seafood to meat and vegetarian in this category. Every food selection in this category comes with a side dish, promoting balanced eating. There are about 37 dishes in this category. The best sellers in this category include the Chianti Braised Short Ribs with Rice, Mediterranean Chicken with Orange Honey Sauce, and the Lemon-Caper Piccata Steak with Gratin.
Meal Combos
It may be best for those who prefer one-time orders to choose the Meal Combo category. This category has up to 20 meals per set, which can last an individual for a week. Whatever your diet preference is, be it paleo, vegetarian, or diabetic-friendly, you will find dishes that appeal to you in this category. The Meal Combo category has about 17 food selections, with its bestsellers being 10 Meals Best Sellers, 7 Meal- La Petite Best Sellers, and the 20 Meals Table-for-Two package.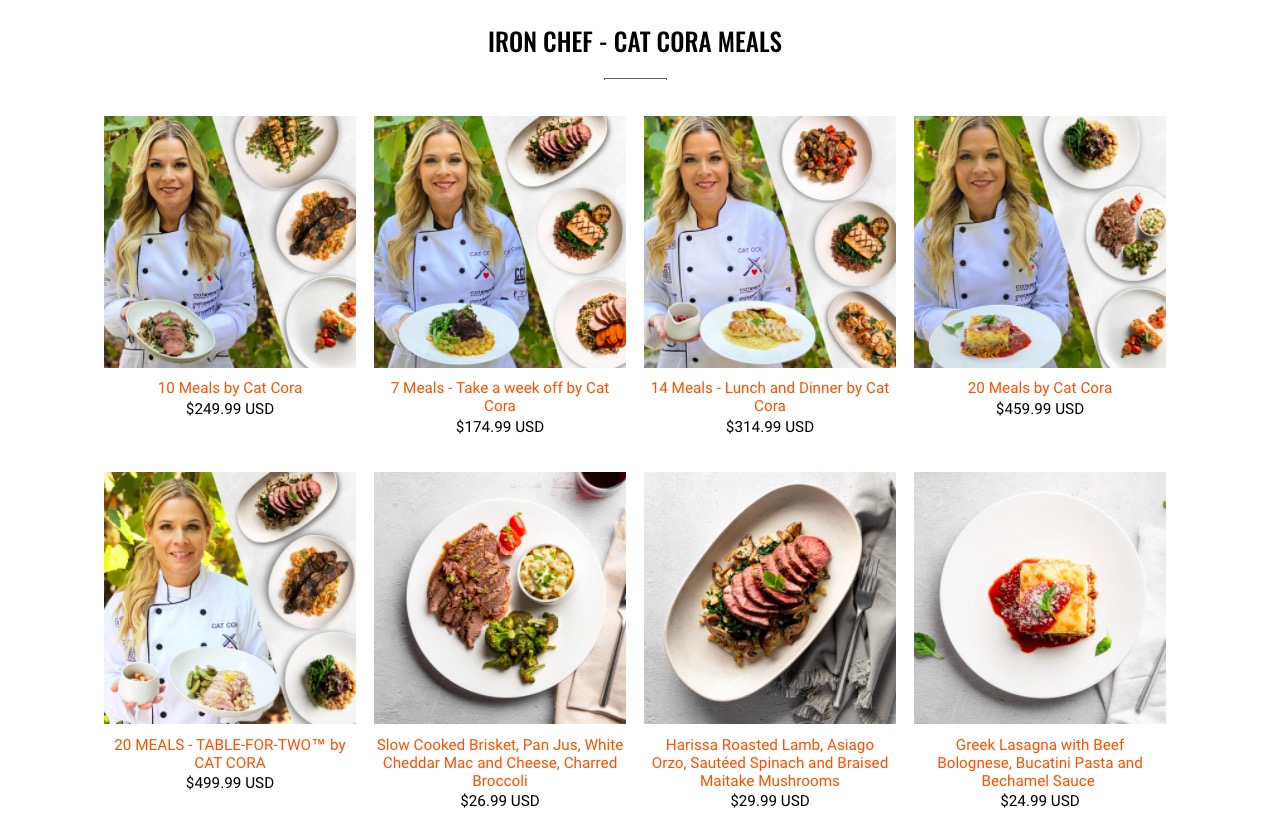 Dietary Preference
One of the factors that make the food delivery service get high ratings in homebistro.com reviews is its knack for consistently considering customers with dietary specifications on its menu list. It shows this once again with its dietary preference meal category, which offers customers menu in the following categories: paleo, vegetarian, gluten-free, diabetic-friendly, Mediterranean, body shred, and heart-healthy. All packages within this category contain ten meals. The only exception is the Body Shred category, which has only six meals.
SUPERBowls
If you have gourmet cuisine cravings, you can satisfy them with Home Bistro's super bowls for lunch. It has two super bowl offerings: 7 SUPER Lunch Bowls and 14 Super Lunch Bowls, which consist of delicious meals that will leave your taste buds craving more.
Chef's Choice
Home Bistro meal delivery service scores another high with this category, allowing you to leave your menu choice to a chef. It may be that you don't have time to choose the particular cuisine you want to eat. In that case, you can let the service's chef do the thinking for you. There are a variety of meals under this category weekly. There are four options in the Chef's Choice category. These are 14 Meals, 10 Meals, 7 Meals, and 5 Meals.
How to Order on Home Bistro
You don't have to be subscribed to the service before making your order. However, it easier to checkout and reorder when you have an account. To make an order via the website, you have to follow this procedure:
Choose your preferred category
The first step in making your order on the website is to scan the site to select your meal preference. If you have a dietary preference, you have to choose the menu specified for your diet. If you want more variety, you should try the Chef's Choice. SUPERBowls are recommended for big-time lunches, while individual meals should be for single orders. If you want a selection of bestsellers and other food types, you should choose from the Meal Combos category.
Select your desired menu and customize
After choosing your category of choice, select a menu and the desired quantity you want. For all categories, this is the step to take except the Chef's Choice category, where you must customize the meat profile. There, you have to decide whether you want to eat everything, whether you are vegetarian, whether you don't want pork meat, whether you don't want seafood, or whether you don't want red meat.
Under the Chef's Choice, you also need to decide if you want to make it a one-time purchase or if you want to subscribe. With the subscription, delivery can be done every week, every two weeks, three weeks, or four weeks. You can cancel the subscription anytime you wish.
After doing all the necessary steps, you can add your menu choice to the cart and proceed to checkout.
Checkout Process
When you get to the checkout page, you will see all the orders your cart contains. If you want to modify their quantities, you can do it here. You can also remove some items from the cart if you wish to. You may also include a gift certificate in your order.
After finalizing your order and completing the checkout process, a page will notify you of its completion and give you an order number. You will also receive an email acknowledging your order. Many customers on Home Bistro reviews say they find the order process easy and convenient.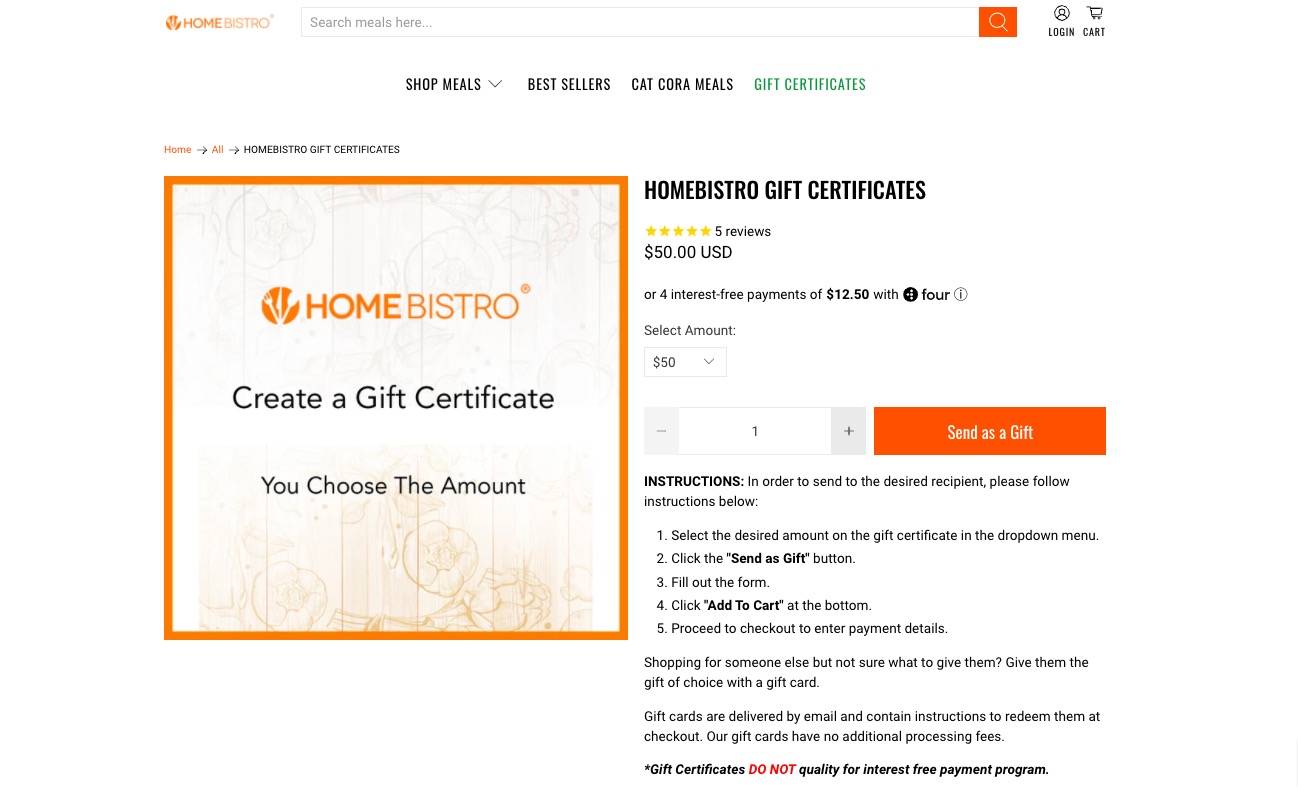 Quality of Products
Bistro ensures quality with its products and uses fresh ingredients its chefs handpicked in preparing its cuisines. It uses 100% USDA-verified Pure Air-Chilled chicken, meaning that water is not added to the meat. The chickens used are vegetarian fed. They are raised without growth stimulants, antibiotics, or animal by-products. The chickens are deboned and hand-trimmed, giving the meat better flavor, texture, and nutrition.
The pork, turkey, and beef from Home Bistro are antibiotic, steroid, and hormone-free. The pigs, turkeys, and cows are vegetarian fed and raised by US ranchers. Their produce is farm fresh and peak-harvested, ensuring the best flavor and quality.
Home Bistro Delivery and Packaging
The service's meals are packaged in insulated boxes, which keeps them cold and fresh during transit. These insulated boxes are specially made and stop the food from spoiling before arriving at your doorstep. The food is also flash-frozen to prevent ice crystals from forming within.
The insulated box's temperature is kept cold with dry ice. The ice may melt before arriving at your location, but it hardly affects your package. Home Bistro says you can still safely store your meals in the refrigerator if they are still cold.
When it comes to Bistro meal delivery, the foodservice delivers to every US state except Hawaii and Alaska. FedEx handles its deliveries. You don't necessarily have to be at home to receive your package, and you don't need to sign. They can leave the box at your door on the day of delivery if you are not around. With Bistro food delivery, you can only deliver individual orders to a single address. You are not allowed to use two separate addresses for individual orders. The service does not ship to P.O. boxes. Deliveries usually take one to three working days to arrive at your doorstep. If you want Home Bistro food delivery to ship your order overnight for free, your order has to be more than $149.99.
Customer Support
If you experience any issues, you can reach out to the service by sending a mail to support @homebistro.com.
Pros and Cons
Pros
It has a wide variety of food choices.
Its ingredients are fresh, natural, and locally sourced.
It requires no cooking. You just need to microwave or boil the food in the bag.
It delivers nationwide except to Hawaii and Alaska.
You don't have to subscribe to the service before making orders.
It offers large portion sizes compared to other food delivery services.
Cons
It is expensive.
It has no refund policy.

Similar Services
Some of the food delivery services offering operations similarly to Home Bistro include FreshDirect, Veestro, Factor, Sakara, and Daily Harvest.
Daily Harvest offers a wide variety of vegetable and fruit-filled soups, lattes, oat bowls, harvest bowls, chia bowls, and smoothies to its customers' doorsteps. These meals are delivered frozen, which locks down all the vitamins and antioxidants. You can choose between nine, 12, and 24-serving plans priced at $7.75/cup to $6.99 per cup.
Sakara Life provides its customers with organic, fresh, and ready-to-eat breakfast, lunch, and dinner consisting of superfoods that guarantee optimal nutrition. Prices range from $26.67 to $69.80 and depend on the number of meals you order.
Factor makes fresh foods using lean proteins, healthy and low glycemic carbs to optimize the body and mind. Their menu selection accommodates keto, dairy-free, and paleo diets. Factor offers four, six, eight, 12, and 18-meal plans that range in price from $60 per week at $15 per serving to $98 per week at $11 per serving.
Veestro allows its customers to choose from 100% vegan plant-based foods for breakfast, lunch, or dinner. Prices range from $10 to $12 per serving. You also have to order 10 to 20 meals depending on your subscription plan.
FreshDirect delivers same-day dinners prepared by chefs and offers its customers vegetarian and under 500 calorie options. It also allows customers to filter meals by cholesterol, sugars, sodium, and more. Its prices range from $2.99 to $15.99 per serving.