Is Martha and Marley Spoon Any Good? Find Out in Our Review
Martha and Marley Spoon is a food kit delivery service that offers its customers balanced and easy to prepare meals. The food kit delivery service works well for just about anyone and even has vegan options.
With Martha and Marley, customers get to choose from more than 29 recipes from five categories weekly. In this review on Martha and Marley Spoon, you will discover everything you need to know about this unique meal kit delivery service. The article reviews Martha and Marley Spoon, and at its end, you can decide for yourself if you should try it or not.
This Marley Spoon meals review believes the food delivery service offers its customers an enjoyable experience. The recipes on offer are delicious and come with helpful instructions that are easy for everyone to understand. Its recyclable packaging is topnotch, and it tries to be as environmental-friendly as possible. The service has reasonable pricing, though its shipping fee is not pleasing. There is also a lack of food options for people with dietary specifications, making it an awful choice for such people. Overall, Martha and Marley Spoon Meal Delivery makes for an ideal meal kit service for those who enjoy cooking and don't have specific dietary requirements.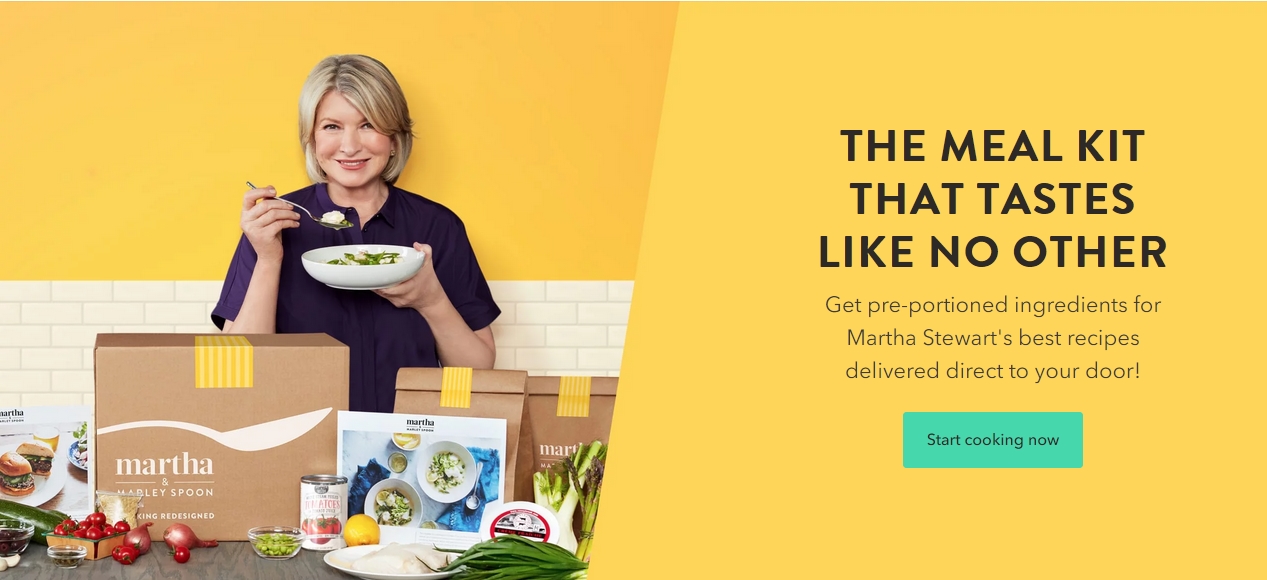 Pros and Cons of Martha Stewart Food Delivery
Pros
Based on user experience and multiple food box delivery reviews, here are the pros of Martha and Marley Spoon:
A weekly menu offering with great variety.
It is vegan-friendly.
It accommodates both vegans and meat-eaters at the same time.
It is excellent for large families and households.
It also offers some non-entree kits like cookies and smoothies.
The price per serving is as low as $6.99.
Cons
Based on customer feedback and Martha Stewart home delivery meals reviews, here are the cons of the food delivery service:
It does not always provide customers an option for equipment.
It is not advisable for those with severe food allergies or strict dietary requirements to patronize the service.
It does not offer specialized meal plan options.
Its price per serving can rise to as high as $10.99.
There is a shipping fee charge of $8.99 for each delivery.
About Martha and Marley Spoon
German-based meal kit company Marley Spoon has been operating in Europe and Australia. It started in the German capital, Berlin, in 2014 before expanding further. In its expansion drive, it ventured into America. However, it needed a popular chef in the US to differentiate it from other food delivery services. Hence, it entered into a partnership with Martha Stewart. It is a partnership that is reaping the rewards for the brand. But is the service really worth it? You will find out in this Marley Spoon review.
How Does Marley Spoon Meal Kit Work?
Signing up for Martha and Marley Spoon is an easy and straightforward process. You are allowed to choose either a two-person or a four-person plan. The next step is to decide the number of meals you want weekly. The options are two to five meals per week for the two-person plan and up to four meals weekly for the four-person plan.
When you sign up, you can set up your food preferences. Doing this prevents you from getting meals you do not want to eat. These preferences can be changed anytime you want.
You will get your Marley Spoon meal kit delivered to you once every week. These kits consist of most of the ingredients you will need to cook your meals. The food kit delivery service allows you to pick between two days for your delivery. The deliveries can arrive at your doorstep anytime between 8 am and 9 pm.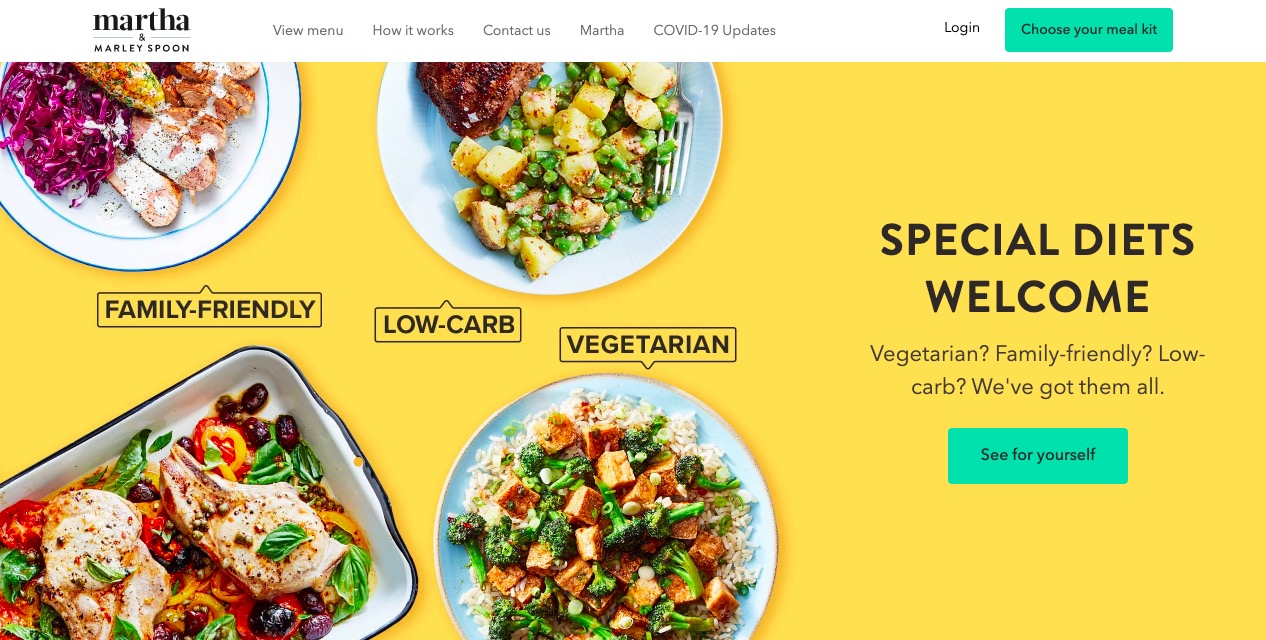 How Much Is Martha and Marley Spoon?
Martha and Marley Spoon's price per serving depends on the number of servings you receive weekly. It ranges from $6.99 to $10.99 per serving per week. Below is a table showing Marley Spoon cost per week.
| | | |
| --- | --- | --- |
| | 2 Persons | 4 Persons |
| 2 Meals Weekly | $10.99 per serving | $8.99 per serving |
| 3 Meals Weekly | $9.49 per serving | $7.99 per serving |
| 4 Meals Weekly | $8.99 per serving | $7.99 per serving |
| 5 Meals Weekly | $8.99 per serving | $7.49 per serving |
| 6 Meals Weekly | $8.49 per serving | $6.99 per serving |
From the table above, you can observe that the best deal is six meals weekly for four people, which is $4 less than serving two meals per week for two persons. One of the downsides for Marley food delivery is that all of their deliveries attract a shipping fee of $8.99 irrespective of how much you pay for your order.
Marley Spoon Meal Kit Options
You can choose 29 weekly recipes on Martha Stewart Food Delivery. These food options are spread across several filters. You will find suggestions that help you as you fill your delivery box. These suggestions are easily editable. Some of the filters include Low-Carb, Health and Diet, Family Friendly, and Under 30 Minutes. Each recipe card contains extra tags and information that you may need. You will find information like allergen and nutritional information, the recipe's level of difficulty, and serving time, which can be helpful. There is a section tagged "six steps," which contains images and gives you an idea of what the cooking process is like.
Quality of Products on Marley Spoon Food Delivery
When it comes to the quality of products offered, this article reviews Martha and Marley Spoon on its ingredients, taste, and freshness. Its recipes include fresh produce, meat, various grains like pasta or price, premade sauces, or premixed blends of seasoning.
Marley Spoon sources its own seasonal vegetables and works with only trusted suppliers to source its animal proteins. Based on various Marley Spoon reviews, customers have no issue with the freshness of the products they receive from the service. However, the service recommends that its customers cook seafood recipes within a day or two of receiving their package. Customers should also cook chicken and ground meat recipes within two to three days, while they can prepare other recipes within three to five days.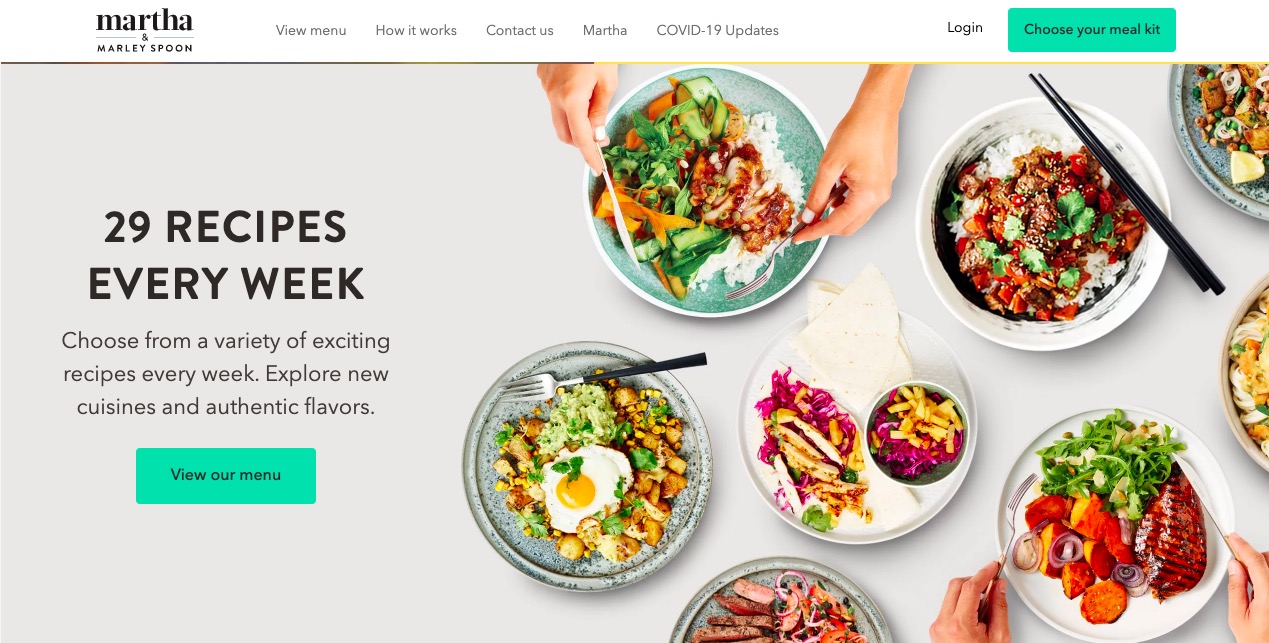 How to Order on Martha and Marley Spoon Meal Delivery
To make an order, click on the choose your meal kit hyperlink and choose either the 2 People or 4 People plan. Choose the number of meals per week (between two to six). If you want to make your box vegetarian, you can check the option for it. After this, proceed to enter your ZIP code, preferred time of delivery, email address, and home address.
The website makes prospective customers enter their details before they can even confirm if they reside in a Marley Spoon delivery area. This means prospective customers would have wasted time entering these details if they find that their area is one of those covered by the service. However, you can always avoid going through that by chatting with the customer service via a messaging form or chat option available on the website.
After entering your delivery details, input your payment details by selecting a payment method. These include via credit cards or PayPal. Input your card details and your password for the website and place your order. The last step is to choose your preferred meals after placing your order. After choosing, you confirm your order, make the payment, and then wait for your package to arrive.
Packaging and Delivery
Martha and Marley Spoon meal kit delivery uses recyclable packaging for its deliveries. Some tips show how customers can recycle every part of the packaging, including paper bags, boxes, plastic bags, and ice packs. Also contained within the package are recipe cards. These cards have simple and straightforward steps customers can follow in preparing the recipes. The cards also include an image of what the final dish will look like.
When you order from the meal delivery service, the order arrives in paper bags you can store easily. The perishables within the bags remain cold despite staying out for long hours. Meanwhile, dry ingredients are packaged together in a sack per meal. The service separates frozen ingredients by the icepack, preserving them.
Support Materials and Customer Service
Meal box delivery reviews show that customers of the service found its full-color recipe cards with step-by-step pictures, nutritional information, and approximated cook time helpful. You can also get these recipes online and on the app, though you can't download or print them.
Marley Spoon has a well-designed website and app that is easy to use and navigate. Once you make recipe orders, it automatically saves on the website. Hence, if you enjoy one particular recipe, you won't have to worry about forgetting its name. You can also tag recipes as favorites if you want to order them some other time. There are articles present in the blog. These articles contain cooking tips and bonus recipes. However, there are just a few helpful instructions for cooking novices.
If you want to connect with customer support, you can do so by filling out an online form or through an email. There are also answers to frequently asked questions on the app.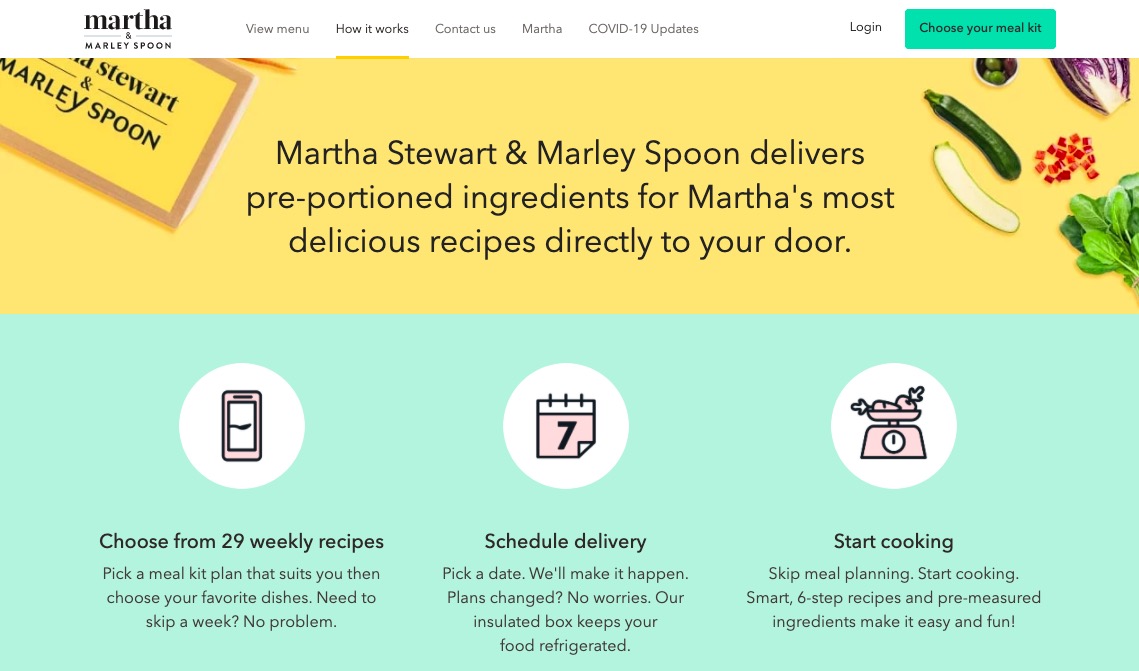 Martha and Marley Spoon's Competitors
Based on statistics and many Matha Marley Spoon reviews, the following food delivery services are regarded as the services' main competition: Blue Apron, Hello Fresh, Home Chef, Green Chef, and Sun Basket. Here is a table showing how these reputable food kit services compare to Marley Spoon based on menu variety, special diets catered to, and price.
| | | | | | | |
| --- | --- | --- | --- | --- | --- | --- |
| | Martha and Marley Spoon | HelloFresh | Blue Apron | Home Chef | Sun Basket | Green Chef |
| Menu Variety | Up to 29 meals weekly | 23 meals weekly | 7 to 10 meals weekly; 2-3 meals per week for the vegetarian plan | Up to 20 weekly meals (it can vary) | Up to 20 dinners weekly in addition to breakfasts, lunches, proteins, sauces, and snacks | 8 to 9 weekly meals on every meal plan |
| Special diets catered to | Vegetarian | Vegetarian, pescatarian, reduced-calorie | Vegetarian | Vegetarian, reduced-calorie, pescatarian, low carb | Low carb, paleo, gluten-free, diabetes-friendly, pescatarian, reduced-calorie, Mediterranean, vegetarian | Low carb, vegetarian, keto |
| Price range | $6.99 to $10.99 per serving; shipping fee of $8.99 on all orders | $7.49 to $ 8.99 per serving; shipping fee of $8.99 | $7.49 to $9.99 per serving; offers free shipping (a shipping charge of $7.99 for smaller boxes) | $8.99 per serving; shipping fee of $6.99 | $10.99 to $12.99 per serving; shipping charge is $7.99 | $11.49 to $12.99 per serving; shipping charge is $7.99 |
People's Perception of Marley Spoon
There is a section for Marley and Martha reviews on the service's website, where many customers have spoken of their love for the services they received and how it makes their lives easier. These Marley Spoon reviews show that the meal kit delivery service is going a long way to satisfy its customers, which endears them to it.
Other independent Martha Stewart and Marley Spoon reviews like this one also show a general customer affection for the service. However, despite these positive Martha Marley Spoon reviews, the food service needs to cater to people with specific dietary needs and allergies and introduce free or reduced shipping costs. Its delivery speed needs to be improved upon as some customers complain about receiving their orders late.