Meal Delivery Services for Singles
Many meal kit subscription services exist today, but not all of them cater to just one person. Most of these services have two-person plans as their minimum option. However, that most food kit services don't cater to one person does not mean there are no one person meal kits.
Many healthy meal delivery services for one person exist and offer quality dishes to their customers. If you have been looking for such platforms or believe they are non-existent, you have to read this article.
The article reviews the best meal kits for singles and breaks down all you need to know about the reviewed brands. After reading the article, you will have all the answers to your questions about meal service for singles.
Advantages of Single Person Meal Delivery
Before reviewing the best meal delivery service for one person, it is worthwhile to go over these food kits' advantages. If you are not convinced about them, you may need to rethink because you stand so much to gain by subscribing to such services.
Most people say they don't fancy meal delivery services for singles because most brands that provide food kits don't cater to one person. Instead, they serve couples and families. Such people prefer takeouts or prepare their foods themselves. These people don't know that there are many single-serving food kits services they can subscribe to and get just the right food they need.
Such services are tailored to the needs of their customers. Therefore, you get just the food you need for each serving and always order cuisines that appeal to your dietary preferences. With single-person meal deliveries, you can order various cuisines as often as you want to. You can also schedule recurring deliveries.
Therefore, with services that provide meal kits for one person, you don't have to order two-person meals and be forced to eat one food for two days. Now, you can get single-person meals packaged and portioned just for you. These foods are healthy and come with different diets to suit those with specific dietary needs.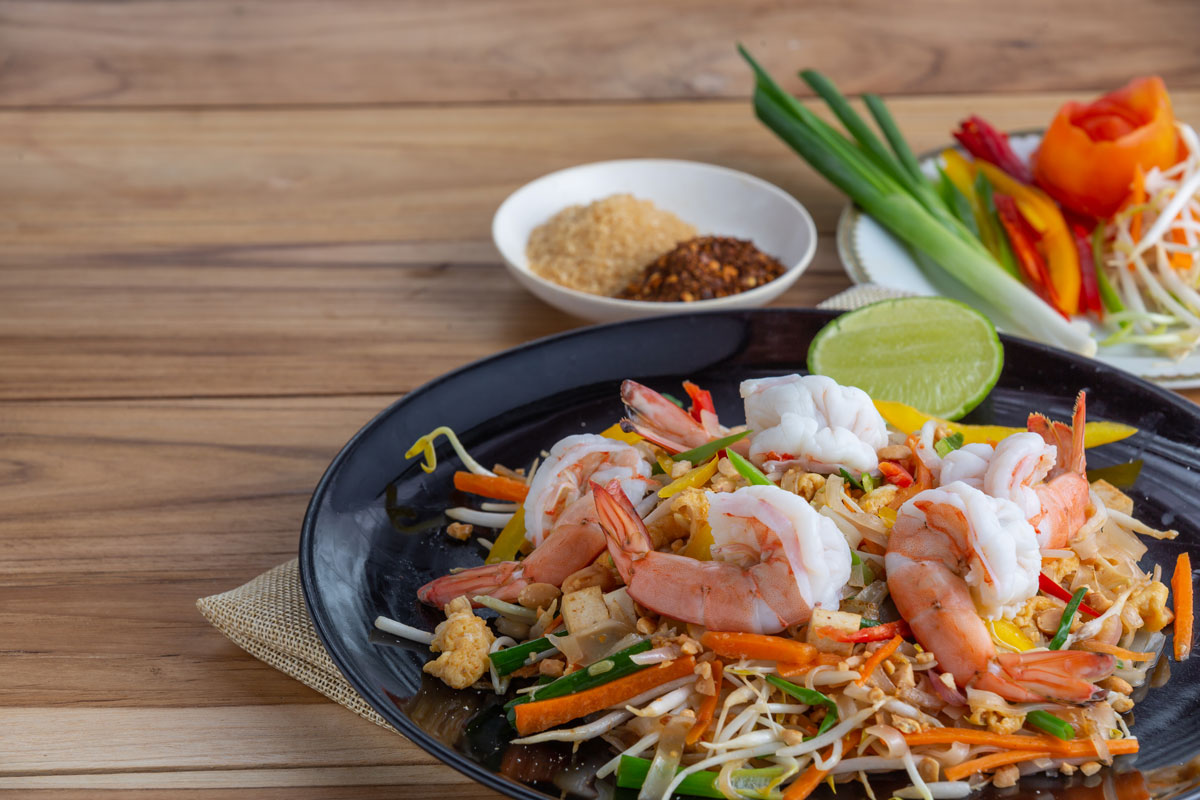 What Differentiates a Single Person Meal Delivery Service from Meal Kit Deliveries
The only difference between single-person food kits and the usual food kits is that a single-person meal delivery caters to one person's needs. On the other hand, standard food kit deliveries provide their services to couples and families, with the minimum plan being a two-person plan.
With platforms that offer single-person dishes, you get to have a personalized experience suitable to your preferences and lifestyle. You will also have the opportunity of customizing your cuisines to suit your taste. These services are flexible and allow you to choose the number of meals you want per week. You can also skip deliveries, create custom meal plans and get the best out of everything. You can do all these with multi-person food kits, but your freedom may be somewhat restricted as you have to choose for yourself and one or more persons.
Meal delivery for one person is usually cheaper than takeouts. This means you can order more food for less when you subscribe to such services. You also get great quality meals and recipes that meet your preferences and dietary needs. You can order whenever you want and don't need to leave your home before cooking. Hence, single-person food deliveries are one of the healthiest options for you to get top-quality foods.
How to Choose the Best Meal Delivery Service for Singles
To choose the right one-person food delivery service for yourself, you must be sure of your preferences. The first thing you should consider is if the particular service you have in mind offers one-person food plans as part of their serving plans. If the platform ticks that box, you move on to the next criterion.
The second criterion is the service's variety. Does it offer a variety of dishes on its menu list? Does its menu list contain meals with several dietary specifications for those with special needs? These specifications include low carb, gluten-free, vegetarian, diabetic-friendly, vegan, low calorie, and many other options.
If the food service you have in mind still meets all of these criteria, you must also consider if its cuisines are tasty and delicious. You need to read reviews about the platform and know what customers and experts are saying about it. A good brand will always have good reviews, while a bad brand has negative reviews. If your preferred service has positive reviews, especially regarding the quality and taste of its foods, then it means it is doing well.
Next, you must consider the service's portion size. Check to see that it offers perfect food portions for singles and leaves no leftovers. Besides the portions being perfect, they must also add nutritional value and provide your body with valuable nutrients.
You should also consider the cost of the service and know if it is affordable or not. If you are on a budget, it will not be wise to go for a meal kit delivery for one person offering exorbitant subscription prices for their services. The best home delivery meals for one person platforms are usually affordable and still give their customers all the necessary things expected from such services. Besides being cheap, the best meal delivery for one person must be flexible and also deliver nationwide.
If a food kit service for singles meets these criteria and is highly reputable in the market, you should consider it and subscribe to it. That said, you will discover ten of the best meal kits for singles who meet the criteria food delivery services must have and offer food delivery to single persons.
The Best Single Person Meal Delivery Services
This section of the article reviews the ten of the best food delivery for single person services you can find in no particular order. You will know about their pricing plans, menu offered, delivery area, and customer support.
Freshly

This service offers meal kit delivery for one person that offers its customers fully prepared cuisines. This means customers will not spend any time in the kitchen preparing meals. Unlike most of its competitors, Freshly's packages arrive fresh and unfrozen. With the little preparatory time needed, it means you can get to eat Freshly meals within three minutes.
Menu Type
Besides offering freshly-cooked foods, Freshly meals are also nutritious and gluten-free. You can also choose other dietary options like "packed with protein," "free from refined sugars," and "all-natural." There are also vegetarian, paleo, low-carb, and soy-free options. You get to choose recipes per week from a rotating menu with more than 30 dish options.
Delivery Options
Freshly is available to customers nationwide.
Pricing
The service offers four subscription plans for its customers. No matter the subscription plan you sign up for, you will get free shipping. You can choose four, six, nine, or 12 meals per week. Four meals per week cost $12.50 per serving and $49.99 per week. Six meals per week cost $9.99 and attract a weekly cost of $59.99, while nine meals weekly cost $9.99 per serving and $89.99 per week. For the 12 meals per week plan, you have to pay $8.99 and $107.99 per week.
Customer Support
You can reach customer support via call, text, or email.
Factor 75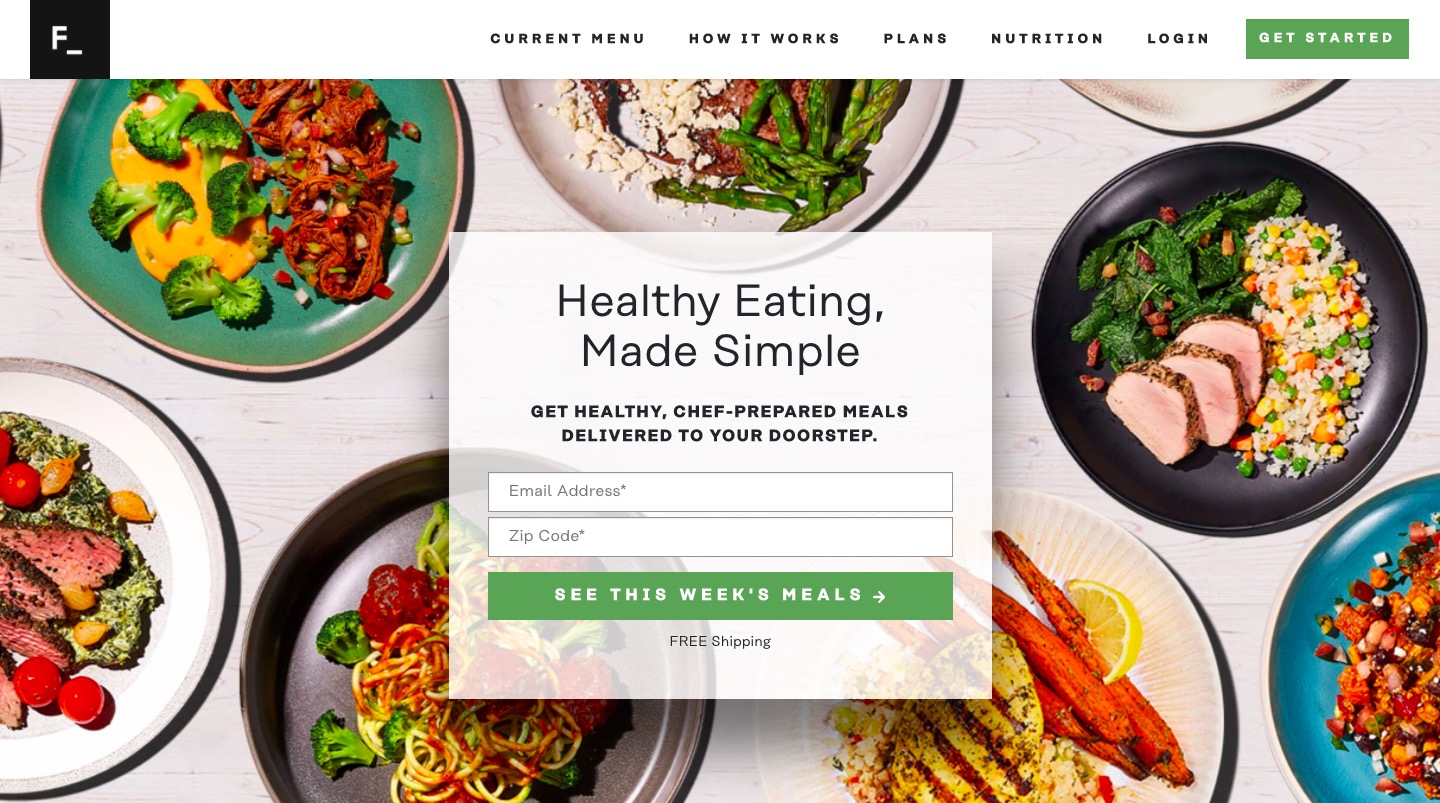 This food delivery service is known for offering its customers multiple dietary options with its menu offering. It is especially recommended if you love paleo, gluten-free, low carb, paleo, plant-based, or nutrient-rich foods.
Whereas you may find it challenging to find foods that match your dietary needs on other platforms, you will find recipes specially made for you on Factor 75. With the foodservice, you get delicious, fully-prepared, single-person delicacies weekly.
Menu Type
A team of nutritionists designs factor 75's dishes. It goes the extra mile by doing nutritional counseling, ensuring that its customers who have strict dietary specifications get everything they need in their dishes. All its cuisines are grass-fed, pasture-raised, gluten-free, Non-GMO, hormone-free, and free from preservatives.
Delivery Area
It is available to customers nationwide.
Pricing
The pricing system Factor 75 employs is dependent on the number of meals you want to be delivered straight to your door per week. It does not charge you for shipping. You can choose four, six, eight, 12, or 18 meals per week. Four meals cost $15 per serving and $60 per week. Six meals cost $12.83 per serving and $77 per week. Other prices are:
$12.83 per serving and $99 per week for eight meals per week.
$11.50 per serving and $138 per week for 12 meals.
$11 per serving and $198 per week for 18 meals.
Customer Support
There is a FAQs section on the website that answers possible questions you may have. You can also contact the support center if you have any issues.
Home Bistro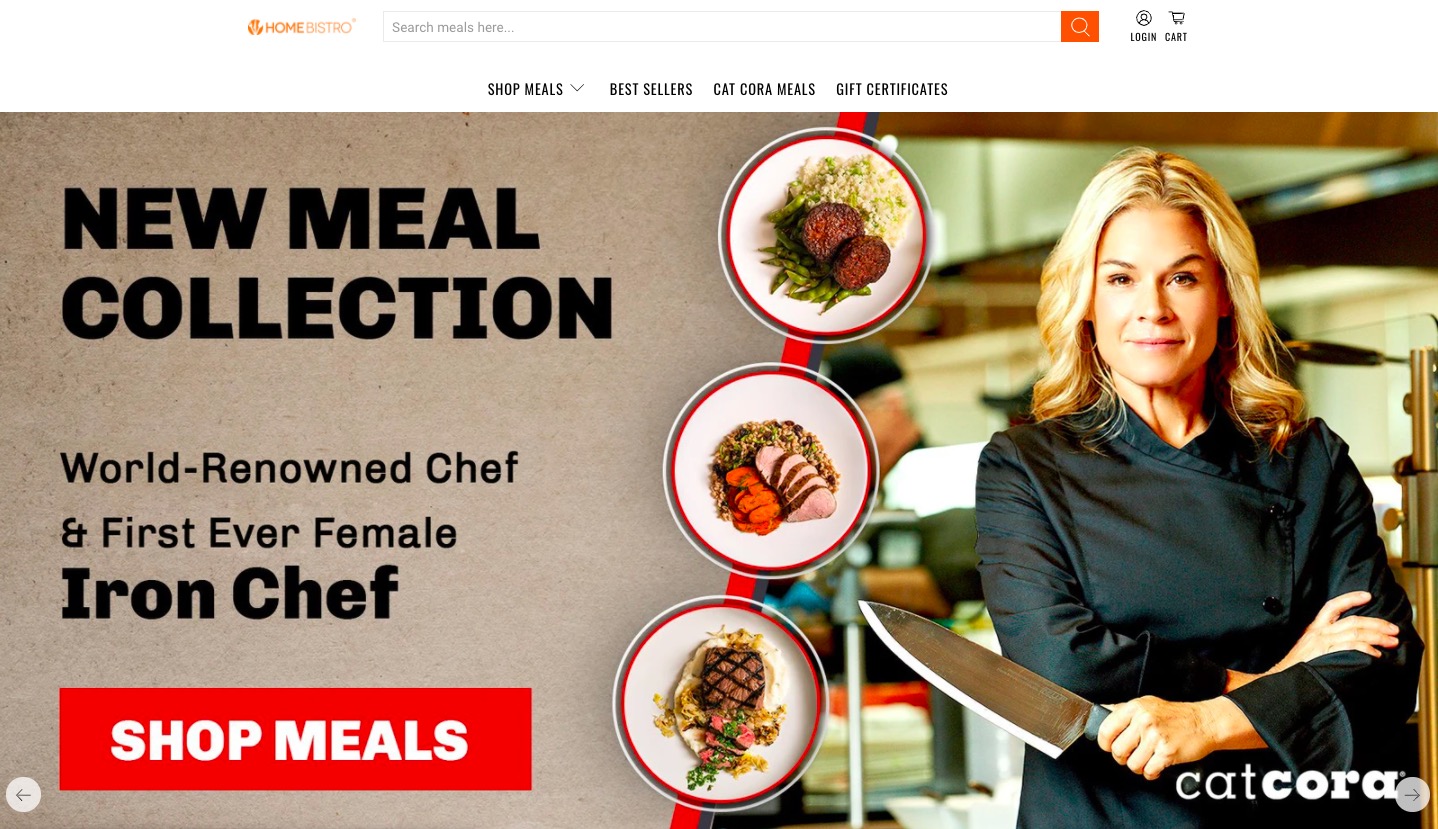 It is a New York-based food delivery service that serves customers restaurant-style gourmet cuisines. You can select from a wide variety of dishes that cater to your dietary needs. Its cuisines are pre-prepared and are delivered frozen. You only need to heat it in the oven for ten minutes before eating.
Delivery Area
It delivers to every US state except Alaska and Hawaii.
Menu Type
Home Bistro offers its menu in five categories. You can choose individual meals, meal combos, dietary preference cuisines, SuperBowls, and chef's choice. In the individual meals category, a single serving plan, you can choose from up to 37 dishes.
All Home Bistro's dishes are cooked from fresh ingredients handpicked by its chefs. It also uses vegetarian-fed chickens and 100% USDA-verified Pure Air-Chilled chicken. Its pork, turkey, and beef are antibiotic, hormone, and steroid-free. It also uses vegetarian-fed cows, turkeys, and pigs raised by US ranchers.
Pricing
Individual dishes cost between $12.99 to $28.99.
Customer Support
You can reach out to the service's customer support through email. They always respond quickly.
Meal Pro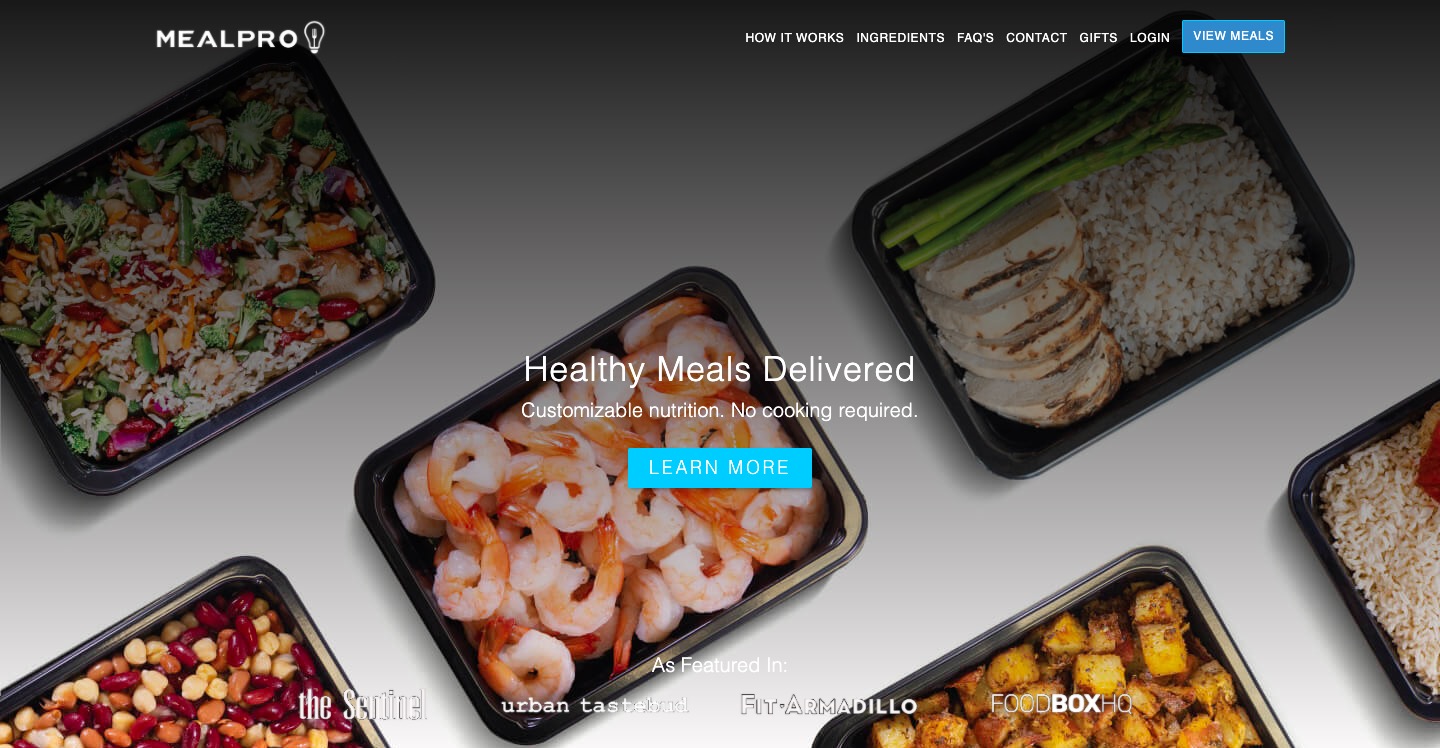 Meal Pro delivers a meal subscription box for one person in special thermal boxes that keeps each dish fresh. The foods are delicious, precooked, designed by athletes, and cooked by expert and experienced chefs.
Delivery Area
It delivers to the US Pacific and Mountain, US Central and East, and Canadian British Columbia.
Menu Type
It is recommended for those who have set fitness goals. Its foods are workout-based, containing more than 35g of protein per serving and 25oz portions. You can customize your dish by stating if you want more protein, no carb, and double vegetables in it. With Meal Pro, you are allowed to pick any dish you like and not bound to fixed cuisines. You can either place individual orders or subscribe to the platform.
The service uses natural ingredients in preparing its dishes and abides by specific cooking techniques that lead to optimized nutrient retention. It also uses seasonal vegetables and organic brown rice. Its chicken is hormone-free, while its red meat is from the Niman Ranch brand with wild Salmon.
Pricing
Meal Pro claims that its portion sizes make it the most affordable food prep service in the market. All orders on the site start from $10.
Customer Service
There is a FAQs section on the website. You can also contact customer care via phone call or fill an online form.
Veestro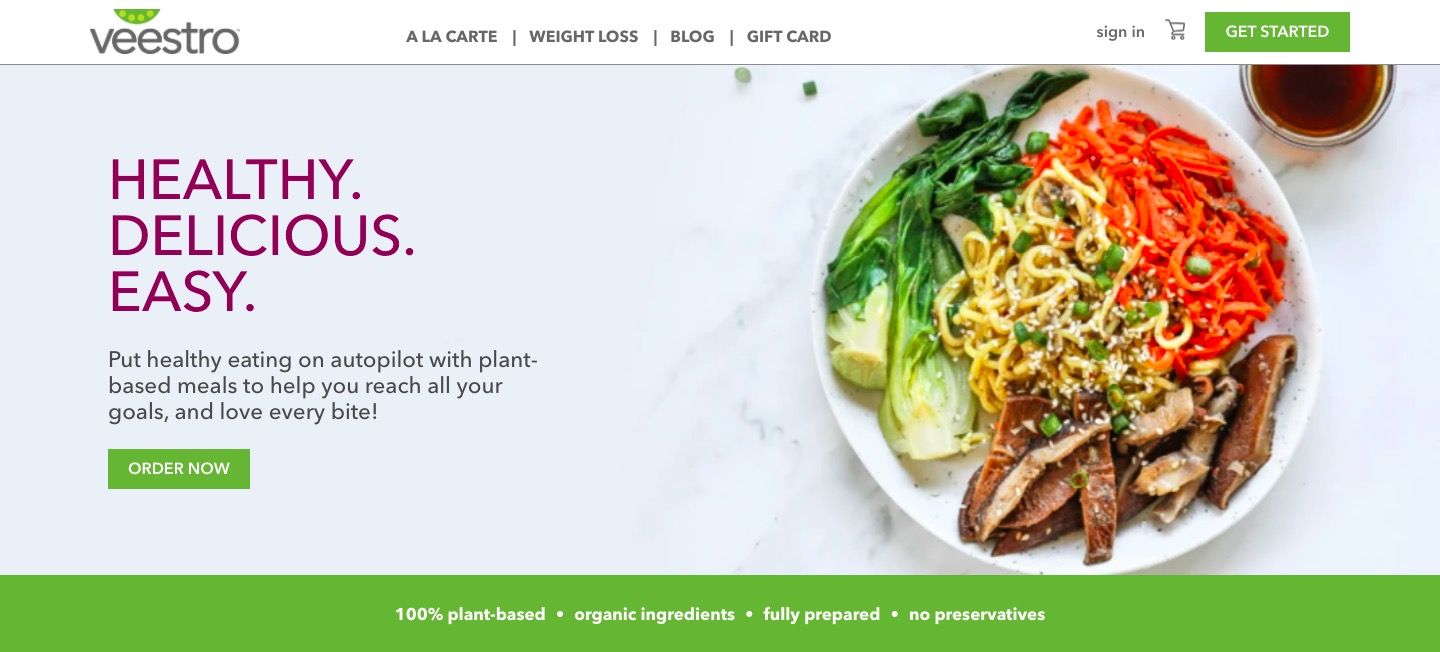 This service offers food kits for singles featuring vegan meals free from meat, fish, dairy, eggs, chicken, and honey. They also have an option called "a la carte," which allows you to fill your box with breakfasts, soups, entrees, and desserts that have been fully prepared.
Delivery Area
It delivers to every address in the United States except Alaska and Hawaii.
Menu Type
Besides the "a la carte" option, you can also sign up for one of Veestro's healthy eating plans like:
21-day kickstart
protein pack
gluten-free
meatless monday
lunchbox
wedding prep pack
kosher pack
weight loss food plans
juice cleanse
Its foods are 100% plant-based, non-GMO, organic, preservative-free, and chef-crafted. It also has many gluten-free cuisines.
Pricing
The price for the a la carte option depends on the number of meals you want to order. Entree prices usually start from $9 99. The price usually varies depending on the plan you choose.
Customer Support
You can contact customer service via email, phone call, and by filling an online form. They respond quickly to your inquiries. There is also a FAQs section on the site.
Snap Kitchen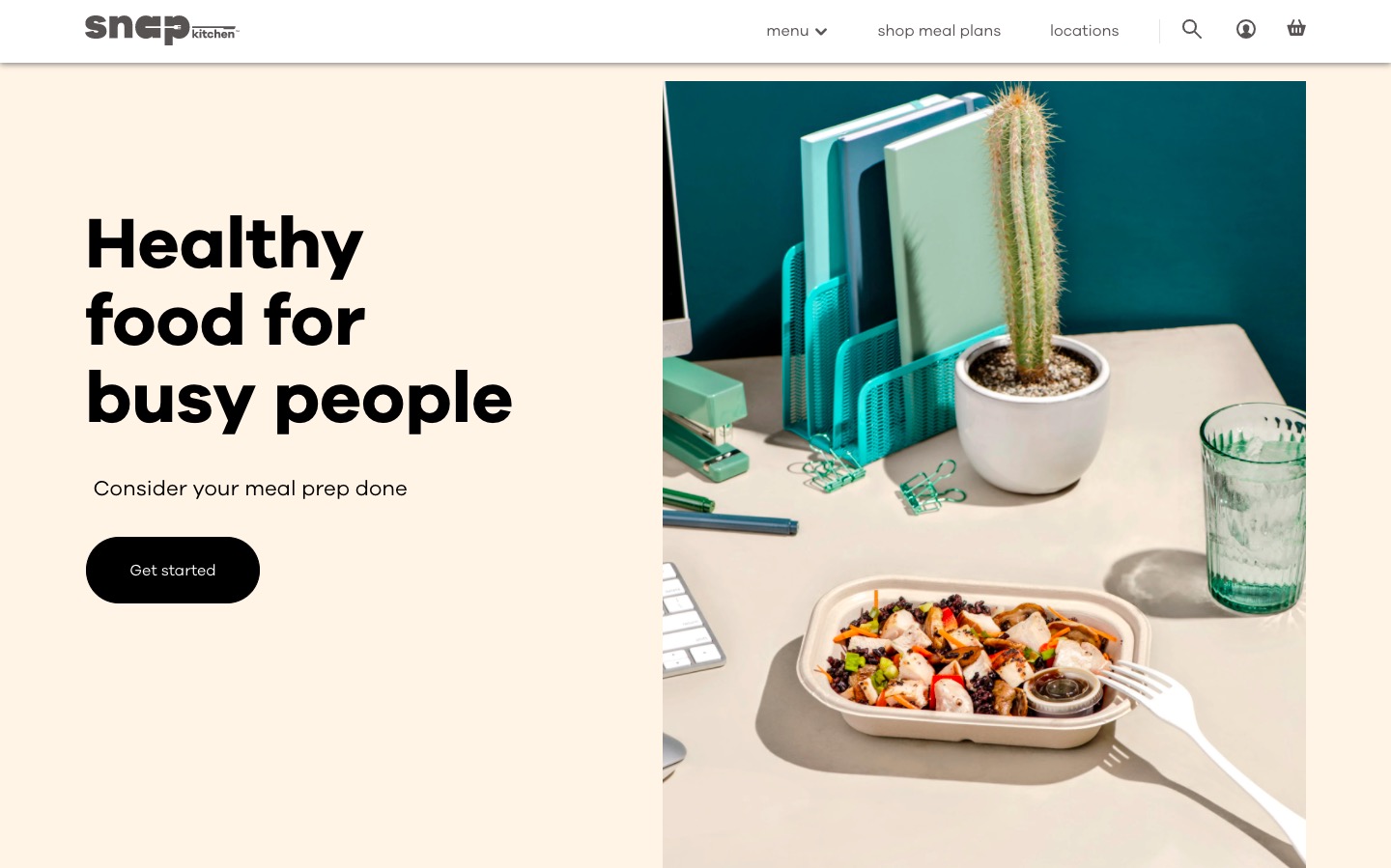 This home food delivery for one person service is highly customizable and allows you to choose three, five, and seven-day plans. These plans recur every week. Daily meals begin with a base plan that can either be low-carb, high protein, balanced, keto, paleo, Whole30, or camp gladiator. From the base plan, you can build your plan by choosing your preferred breakfast, lunch, dinner, snacks, and drinks.
Delivery Area
It offers free shipping to 15 US states, including New Jersey. It delivers its cuisines in insulated gel packs, which ensure they remain fresh.
Menu Type
All Snap Kitchen's cuisines are gluten-free, without artificial preservatives, hormone-free, antibiotic-free, and flavoring-free. They are prepared by expert dietitians, with the health of their customers always the priority.
Pricing
It costs $11.67 per serving, with six meals costing $69.99, while 12 meals cost $114.99 at $9.28 per serving.
Customer Service
It has quick and responsive customer support.
Blue Apron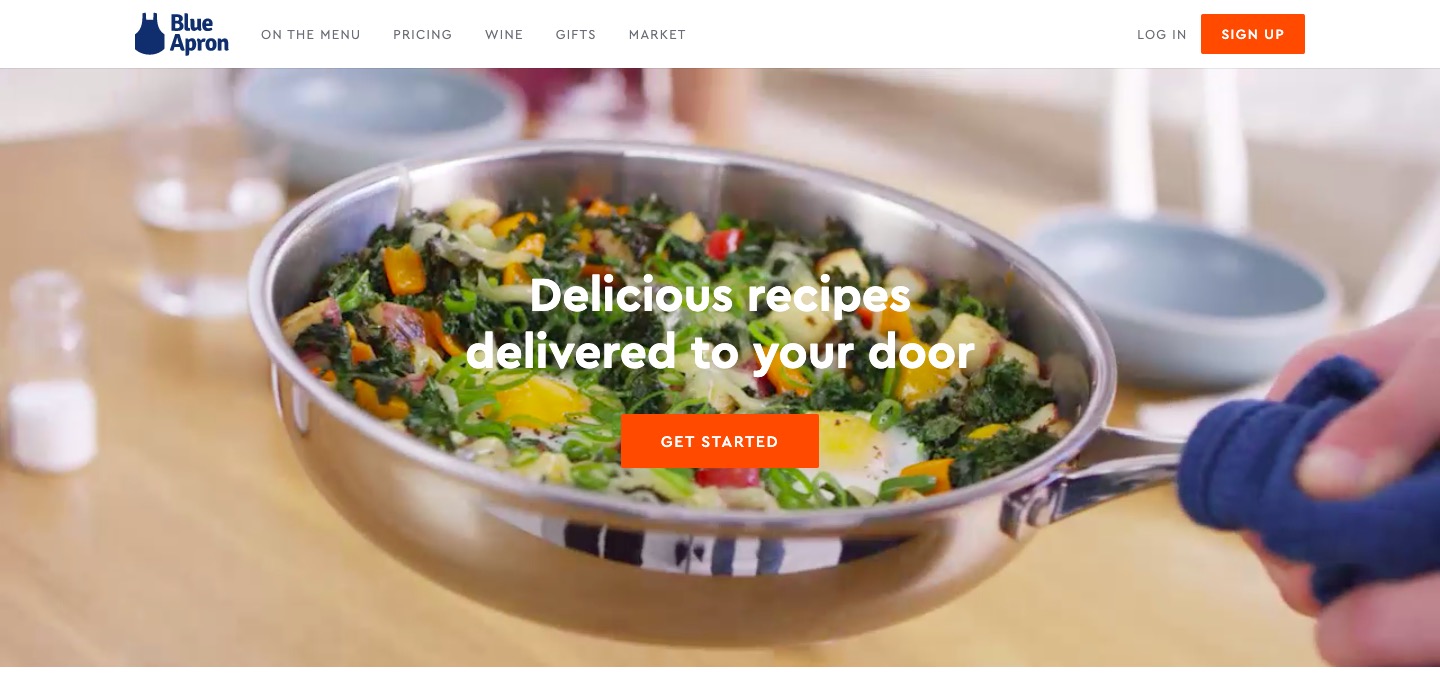 Meal delivery for single people is a great way to enjoy this exceptional food delivery brand's benefits personally. Blue Apron is the pioneer meal kit brand in the US and has withstood the test of time to remain relevant in the market.
Delivery Area
It delivers throughout the continental USA.
Menu Types
Some of Blue Apron's food delights for singles include:
Orange-Glazed Meatballs with Vegetables & White Rice
Spanish-Spiced Salmon & Farro With Roasted Vegetables & Salsa Verde
Black Bean & Caramelized Onion Taco with Roasted Zucchini
Togarashi Popcorn Chicken with Hoisin Mayo & Sweet Chili Slaw
Its cuisines are chef-designed and are prepared using only high-quality ingredients. You can choose between multiple dietary options. It is also great for those with allergies.
Pricing
Meals start from $7.49 on Blue Apron.
Frozen Garden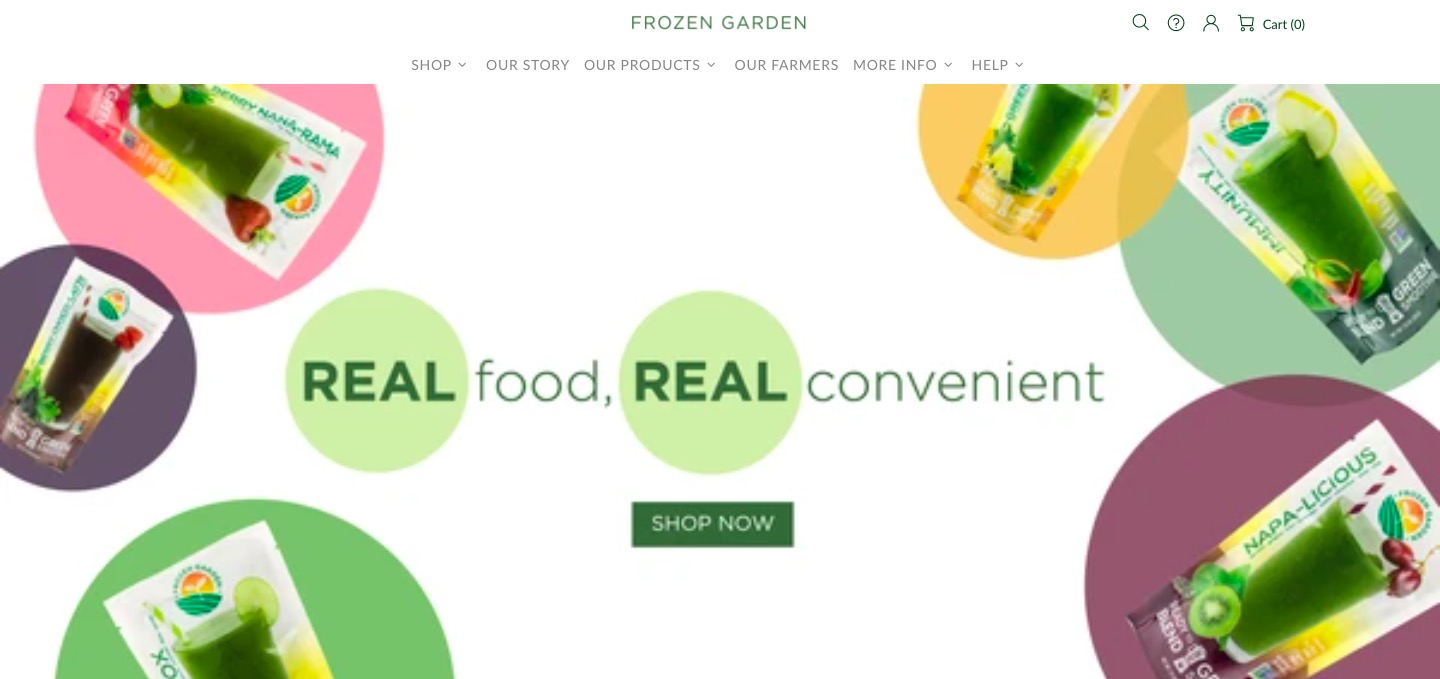 If you are looking for quick breakfasts, an afternoon snack, or a quick way to refuel after a workout, Frozen Garden is the right fit for you. It delivers frozen pre-measured ingredients you use to prepare great-tasting smoothies at home. You just need to add a little water, blend the ingredients and enjoy your smoothie delight.
Delivery Area
It ships to all locations within the lower 48 states with a minimum order amount of $35.
Menu Type
There are multiple menu options to choose from, including:
Green Smoothie
Cherry Bomb
Jungle Breeze
Berry-Nana-Rama
Berrikini
Green Protein
Rollin' Oats
Immunity
Very Veggie
Berry Choco-Latte
Napa-Licious
You can also get the Fusion Beverage Infusers, which allow you to make naturally flavored smoothies easily with the addition of a little frozen fruit. You can also order a la carte and don't have to subscribe to make orders.
Frozen Garden's smoothies are gluten-free, dairy-free, soy-free, vegan, have no added sugar, and are verified non-GMO.
Pricing
You can order smoothies for as low as $5.95 by buying in bulk on Frozen Garden.
Customer Service
You can send a message to customer support via email or by filling out an online form.
RealEats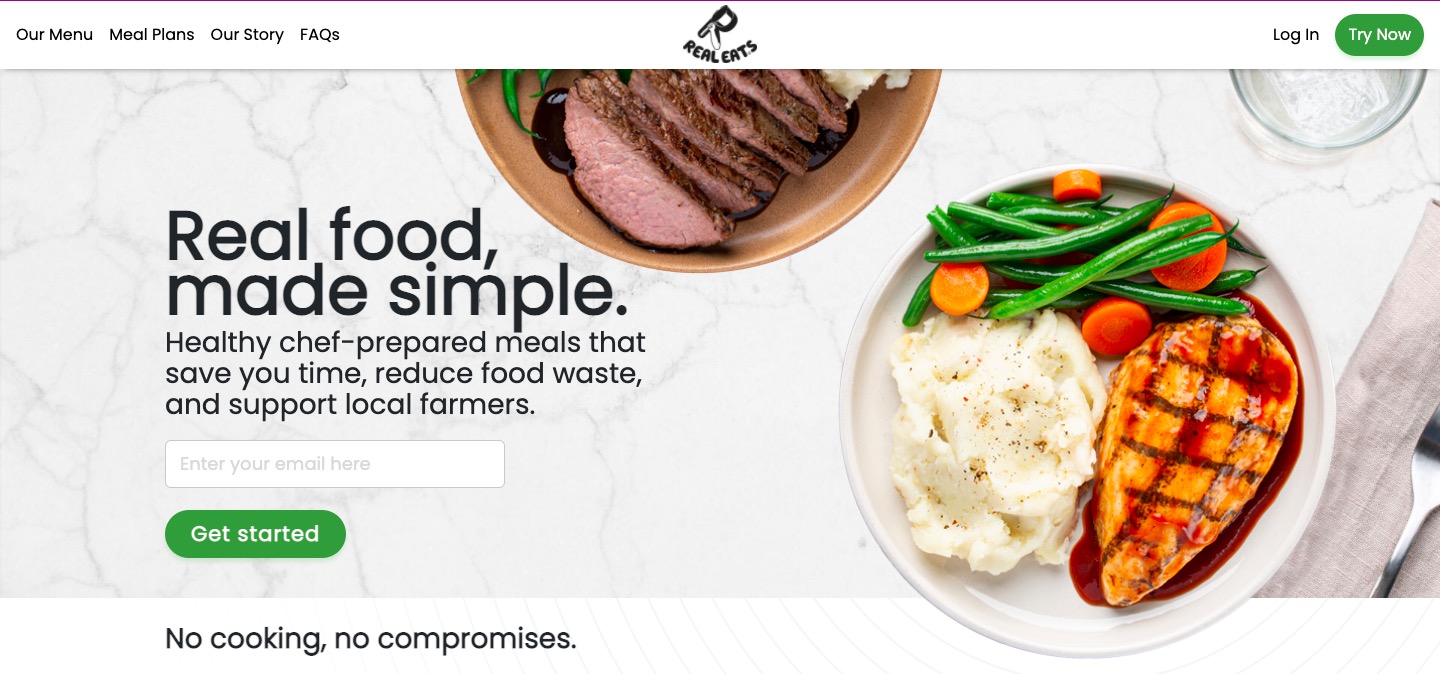 The foodservice uses organically grown and locally sourced ingredients to prepare its one-person serving breakfasts and dinners. Its cuisines are great for your body. You can get four single-serving meals weekly.
Delivery Area
RealEats delivers to the following states: Connecticut, Delaware, District of Columbia, Illinois, Indiana, Kentucky, Maine, Maryland, Massachusetts, Michigan, New Hampshire, New Jersey, New York, North Carolina, Ohio, Pennsylvania, Rhode Island, Vermont, Virginia, & West Virginia. It also delivers to most of South Carolina, Tennessee, and Wisconsin and parts of Alabama, Georgia, Iowa, Minnesota, and Missouri.
Menu Type
Most dishes feature meat, though you can find vegetarian and pescatarian options. There are also options for those with special diets like low-calorie options, gluten-free, full-on-carnivore, paleo, etc. All dishes are fully cooked and delivered fresh and frozen to your doorstep. These cuisines can last up to seven days in a fridge, taking just six minutes to reheat in an oven or pot of boiling water.
Pricing
Prices start at $58 per week for four meals.
Customer Support
You can reach customer support via email, live chat, phone call, or by filling a message form on the site.
Trifecta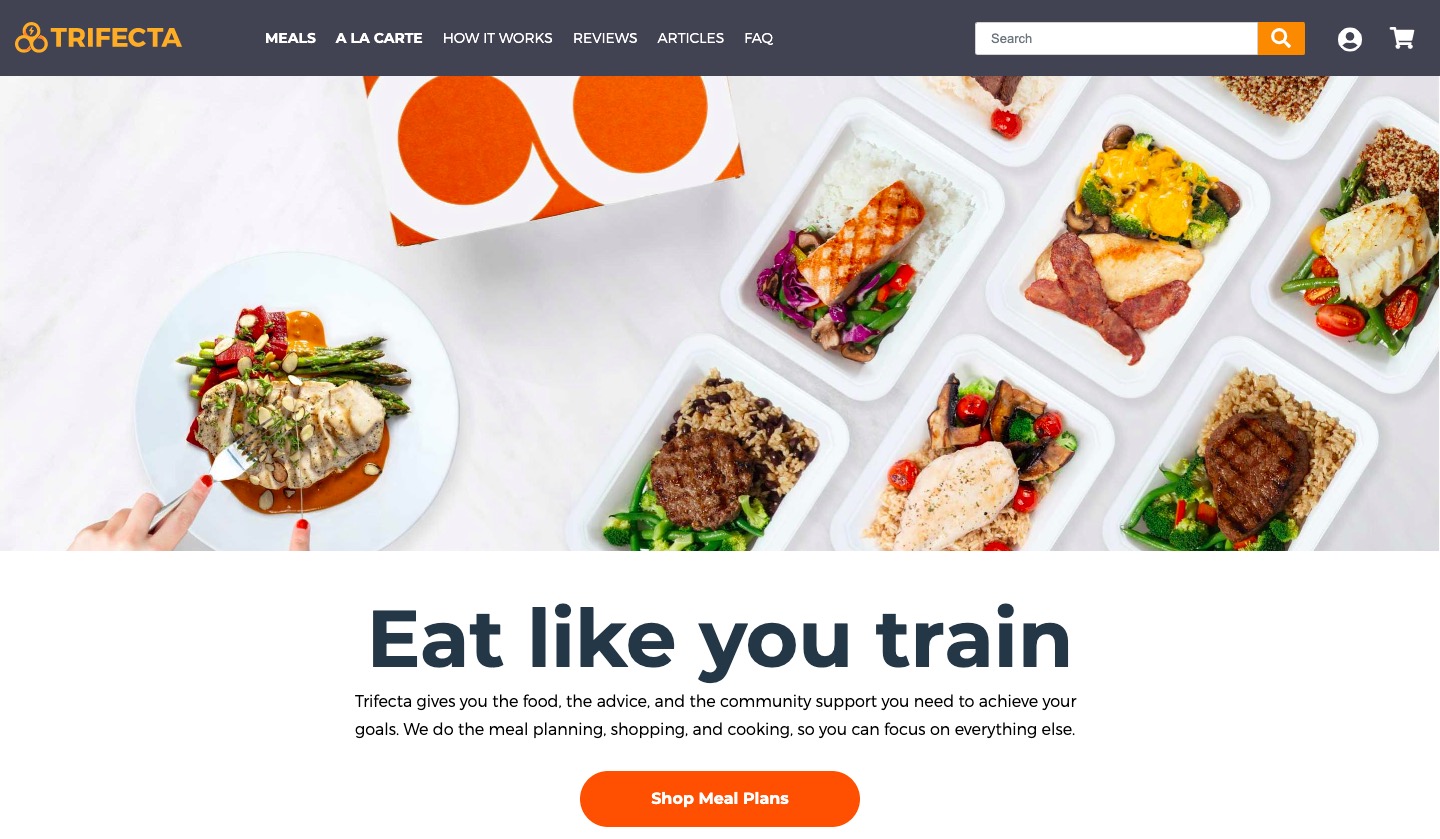 If you are a busy person, then Trifecta is a perfect match for you. It is a food delivery service for one person that delivers high protein and low sugar cuisines that are gluten-free. You can choose from several plans.
Delivery Area
It delivers to any US address.
Menu Type
There are many options on the menu list that will suit your preferences. You can see the amount of proteins, fat, and sodium for each dish. The dietary choices Trifecta caters to include keto, clean, paleo, vegan, and vegetarian. All foods are organic, and you can select your preferred serving portions. It is particularly great for you if you want to switch things up for your weeknight dinners. Some dinner options include basil chicken, black beans, and sweet potatoes. You can order up ti four meals per day for one person.
Pricing
Trifecta'sKeto, Clean, and Paleo meal plans start from $108.43/week. Vegan and Vegetarian meal plans start from $113.90/week.
Conclusion
You have come to the end of this review and now know ten meal delivery services for one person that you can order meals that suit your personal preferences. You don't have to bother about wasting food or putting yourself through the stress of shopping before cooking your meals with these services being available. You get just the right portion for your needs and satisfaction. You just need to visit the site, sign up if you need to, and make your first meal order. Enjoy your experience.